QNAP QES 2.1

Powerful. Reliable. Optimized for All-Flash.

Designed for high-end enterprise IT
The QES (QNAP Enterprise Storage) operating system is based on the simple and efficient FreeBSD kernel and the ZFS file system that has been proven through years of experience to be most suitable for high-end enterprise applications. The latest QES 2.1 is flash-optimized, capable of driving outstanding performance for all-flash storage arrays to accelerate mission-critical services and eliminate challenges in VDI environments. QES can also be directly integrated into OpenStack® cloud environments for a wider range of applications. Continuing the same user experience with the intuitive QTS operating system, QES provides business users with an easy learning curve to quickly implement in their IT infrastructure.

All-flash Optimized

Data Integrity
Business Continuity

Disaster Recovery

Virtualization Friendly

Cost Saving
QNAP's Write Coalescing algorithm drives random write performance for all-flash arrays
QES 2.1 features QNAP's exclusive Write Coalescing algorithm that is engineered for flash optimization by transforming all random writes to sequential writes along with reduced I/O. It not only effectively increases random write performance for all-flash environments, but also can improve SSD lifespan. Write Coalescing integrates additional advanced technologies, including software-defined SSD optimization, data inline compaction, and iSER acceleration. QES 2.1 also comes with Quality of Service (QoS) capabilities that help ensure consistent primary storage performance in multi-application environments.
Self-Healing ensures data integrity and reliability
Designed with a focus on data integrity, a fundamental aspect of storage security and reliability, QES uses its end-to-end checksums to detect and correct silent data corruption caused by hardware defects, bugs in firmware or metadata errors. If an integrity violation is detected, QES automatically repairs the damage using data from the other mirror before the data is passed to applications.

Deduplication and compression enables optimized storage
QES supports block-based data deduplication to reclaim storage used by redundant/repeated data and in-line data compression to shrink file sizes. Both functions optimize storage utilization and provide cost savings for businesses when using SSDs (particularly for all-flash storage deployment). In VDI environments where there could be over 90% duplicate data from OS images and applications that are spread over virtual desktops, deduplicated virtual desktops become easier to be cached to achieve optimal virtual desktop performance.

Free up server resources with fast clone and deduplication
Conventional file replication requires the host server to read data from one storage and write the data to a designated disk space. If the data is huge, the copy speed will become slow and consume the server's computing resources. QES features Fast Clone with data deduplication, where the host server commands the storage to perform data replication based on the changed metadata, increasing the speed of backup creation while also reducing disk space requirements and load on the host server. From the QNAP Lab testing, QES can complete replication of a 70 GB file in 20 seconds.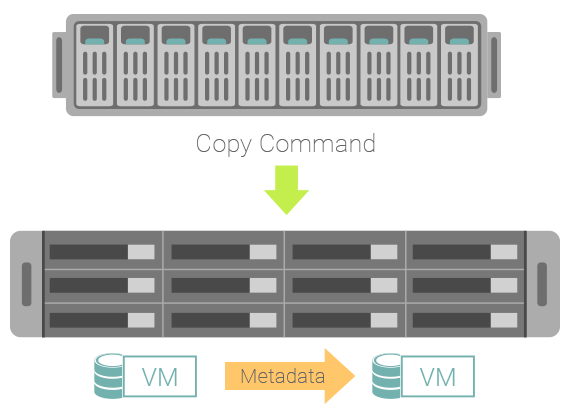 Strong disaster recovery with near-limitless snapshots and SnapSync
QES supports up to 65,535 snapshots for iSCSI LUN and shared folders (if 1 snapshot is created every hour, 24 snapshots per day, then up to 7 years worth of snapshots can be created without needing to delete any!). Copy-on-write technology makes snapshot creation almost instantaneous without affecting ongoing data writing. Incremental snapshots create timestamps that allows each snapshot to be easily previewed and restored, without disrupting current system services.
SnapSync remotely replicates your critical data
QES supports block-level SnapSync for remote snapshot backups. It only needs to transfer changed data to save required storage space and to improve backup speeds. You can set a SnapSync frequency or use the real-time mode, meaning whenever a change is made to the files in the target storage space, a remote replication will be processed. In the event of a primary site failure, the complete and efficient SnapSync assists businesses to resume essential services in the shortest time.

Compatible with VMware, Microsoft and Citrix virtualization
QNAP NAS with QES is certified for VMware® vSphere® 6.5, Windows Server® 2016, and Citrix XenServer® 7.0, benefiting flexible deployment and management in virtualization environments. QES also supports VMware® VAAI and Microsoft® ODX to increase performance by offloading server loading for ESXi® server and Hyper-V® respectively, and supports QNAP vSphere Client plug-in, Web plug-in and QNAP SMI-S provider with enhanced efficiency of operations and management in virtualization applications.
Integrated with VMware vCenter Site Recovery Manager
The remote backup SnapSync provided by QES supports VMware vCenter Site Recovery Manager (SRM), offering enterprise-class remote backup & disaster recovery solution for virtual applications to fulfill business continuity. With the Storage Replication Adapter (SRA) for SRM, operation overheads of the ESXi® server can be offloaded to the QNAP storage array to accelerate and simplify virtual machine backup and restoration.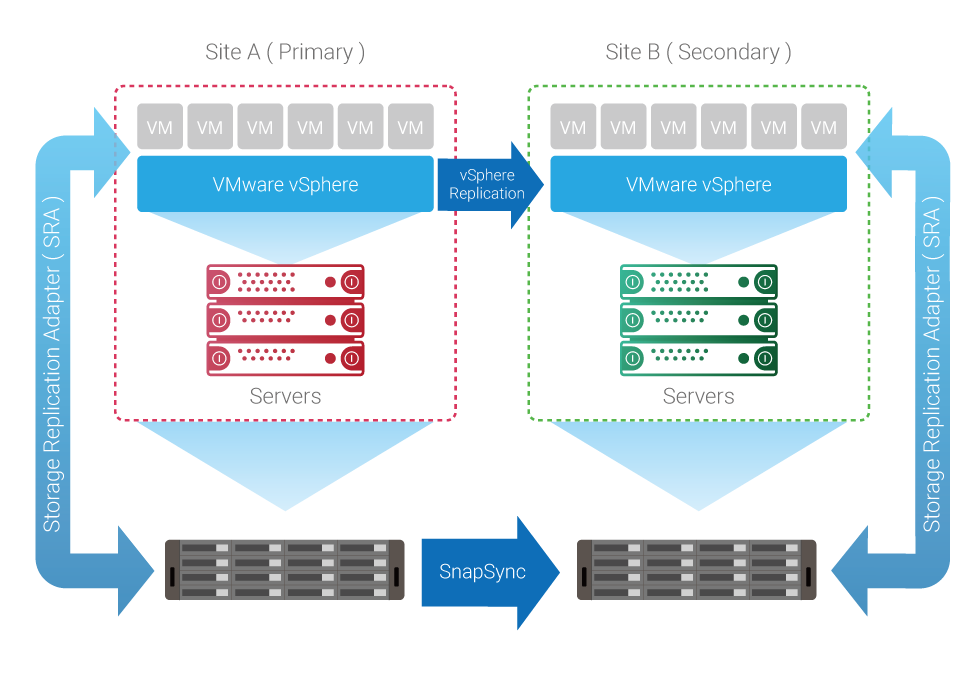 OpenStack Ready to explore out-of-the-box enterprise cloud services
QES supports OpenStack® Cinder and Manila file sharing services. With QNAP Cinder Driver, QES-based storage is able to provide block-level storage space to virtual machines. It not only accelerates the deployment of virtual machines and enhances virtual machine image access efficiency through iSCSI, but it is also easier to integrate into commercial cloud storage platforms.
QES supported NAS models
Note: The Write coalescing algorithm and data compaction in QES 2.1.0 do not support for dual-controller NAS. This will be supported in future versions of QES.
More resources & download
Contact a QNAP Solutions Specialist today to Learn More!