QNAP QSW-M408S

Entry-level 10GbE Layer 2 Web Managed Switch for SMB Network Deployment
QNAP Products
QNAP Switches
QNAP 12-port layer 2 managed switch. Eight 1GbE ports and four 10G SFP+ ports.
Easy management with web browser.
#QSW-M408S-US
Our Price: $299.00
Click here to jump to more pricing!
Package Content
QNAP QSW-M408S Switch
1 x Power cord
Power Adapter
Quick Installation Guide
Overview:
The QSW-M408S is a Layer 2 Web Managed Switch equipped with four 10GbE SFP+ ports and eight Gigabit ports. Supporting Layer 2 switching and network management via a user-friendly web user interface, the QSW-M408S offers flexible deployment in hybrid high-speed network environments and provides an entry-level network management solution that is usable even by non-IT professionals. With its high performance, user-friendly management features and desktop size, the QSW-M408S allows you to instantly upgrade to a hybrid high-speed network environment at a cost-effective price, while optimizing network bandwidth and ensuring network maintenance security.

The QSW-M408S is equipped with four 10GbE SFP+ ports and eight Gigabit ports for connecting various devices.

Featuring a user-friendly web UI, the QNAP Switch System (QSS) provides an overview dashboard, port management and setting guide, making central network management intuitive and easy.

The QSW-M408S provides Layer 2 management features, such as LACP, VLAN, ACL and LLDP for IT administrators to efficiently control the network bandwidth and enhance security.

The QSW-M408S is one the few web-managed switches that supports Rapid Spanning Tree Protocol (RSTP). You can easily and efficiently deploy small/medium-scale networks that support expansion, redundancy and loop prevention.

Compliant with IEEE 802.3az Energy Efficient Ethernet and IEEE802.3x Flow Control in full-duplex mode, the QSW-M408S avoids packet loss from unparalleled bandwidth, and reduces power consumption for low-speed and inactive connections.

QSS (QNAP Switch System) helps administrators update firmware with just one click, ensuring network security.
Features:
Flexible deployment with multiple 10G SFP+ fiber and Gigabit ports
The QSW-M408S provides four 10GbE SFP+ ports (with two 10GbE SFP+/RJ45 combo ports) and eight Gigabit ports for connecting various devices and enabling hybrid high-speed networks. With SFP+ interfaces, direct attach copper (DAC) cables can be used for connecting directly to SFP+ devices. You can also use 10G-SFP-T copper transceiver modules to connect 10GBASE-T/NBASE-T™ devices through RJ45 Category 6, 5 or 5e cabling. The switching capacity of QSW-M408S is 96Gbps, guaranteeing the full potential of each port.
Note: The 10GbE SFP+ ports are backward compatible with 1GbE SFP.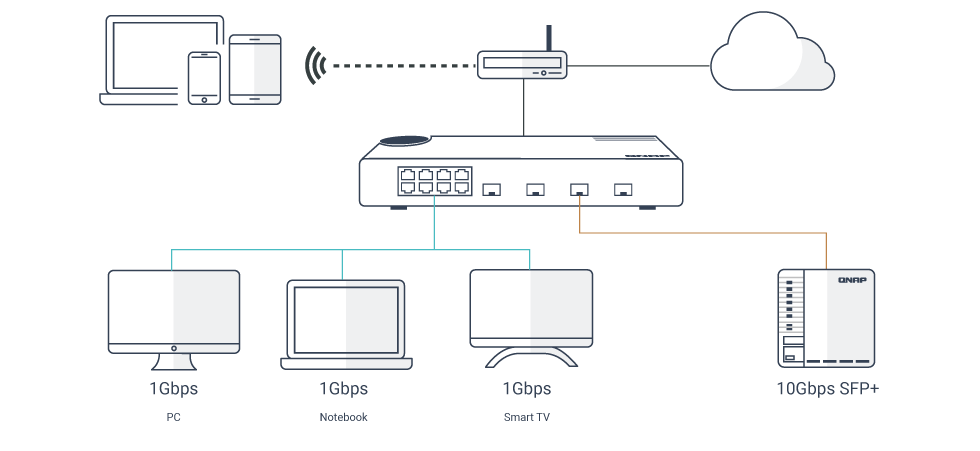 ---
QSS: Intuitive Network Management Software with Web GUI
The QSW-M408S uses the QNAP Switch System (QSS), which features an easy-to-use Web GUI with value-added functions to simplify network set up and management.
Sleek Design
Use the at-a-glance major functions, flat control layers and one-click login to simplify set up and management.
GUI
The visual illustration matches physical ports for greater usability.
Value-added Functions
With the setting guide, status chart reference, online firmware update, the learning and management costs are greatly reduced.
---
QSS: Human-centered settings guide
QNAP Switch System (QSS) provides an overview dashboard, port management and setting guide to help administrators control Layer 2 networks.
Overview Dashboard
View real-time system information, port connection status and port traffic.
Port Management
View port status, port packet statistics, and configure port speeds.
Setting Guide
Quickly learn how to set up the network using the function introduction and step-by-step setting guide.
Exclusive Status Chart Referencing
Refer to four major status charts during each configuration to avoid going back and forth between different setting pages.
Online Firmware Check and Update
Keep your QSW-M408S secure and up-to-date with one-click firmware updates.
---
Optimize Network Performance with bandwidth and packet control
The QSW-M408S provides bandwidth and packet control functions (such as LACP, VLAN, QoS, and IGMP Snooping) for boosting network performance through IP grouping and bandwidth management.
LACP
VLAN
QoS
IGMP Snooping

Bandwidth allocation
Bandwidth expansion

Communication Efficiency
Flexible Segmentation

Traffic control
Prioritizing bandwidth

Status snooping
Traffic reduction
---
Powerful security and system functions
The QSW-M408S has powerful security and system functions (including ACL, LLDP, RSTP and Flow Control) to help administrators enhance network reliability using access controls, troubleshooting, loop prevention and avoiding packet loss.
ACL
LLDP
RSTP
Flow Control

Access controls
Security system

Device disclosure
Troubleshooting

Loop prevention
Backup path

Balance speed
Jam prevention
---
Improve team productivity with a 5GbE/ 10GbE High-Speed Network
From NAS with built-in 10GbE SFP+ and 10GBASE-T ports, or NAS with PCIe slots that support 10GbE/5GbE/2.5GbE network adapters, QNAP has led the industry in 10GbE adoption. Other high-speed network solutions from QNAP include Thunderbolt 3 to 10GbE Network Adapters and USB 3.2 Gen 1 to 5GbE Network Adapters. These can all be used with the QSW-M408S to create a comprehensive high-speed network environment for boosting the performance of photo/video editing, virtualization, large-file data transfers, and other bandwidth-demanding tasks.

---
Desktop size for easy use in offices
With a compact and modern design, the QSW-M408S fits perfectly alongside other devices in modern digital offices. Featuring a delicate white or textured surface design, the QSW-M408S helps users to easily identify each port. The flexible DC power connector also assists in universally deploying the QSW-M408S. Being fully plug-and-play, simply connect the QSW-M408S to your devices and it will do the rest.
Hardware Specifications:
QSW-M408S
Management Type
Web Managed
Number of Ports
12
10GbE SFP+
4
10G/1G
1GbE (RJ45)
8
Power Supply Description
Adapter
Max. Power Consumption
12.17 W
Input Power Type
AC
Input Voltage Range
100 ‒ 240VAC, 50/60Hz
MAC Address Table
16K
Total Non-Blocking Throughput
48Gbps
Switching Capacity
96Gbps
Management Interface
Web
Console
RJ45
Energy Efficient Ethernet (IEEE 802.3az complaint)
Fan
PWM double ball bearing fan x 1
Supported Standards
IEEE 802.3 Ethernet
IEEE 802.3u 100BASE-T
IEEE 802.3ab 1000BASE-T
IEEE 802.3bz 2.5G/5GBase-T
IEEE 802.3an 10G BASE-T
IEEE 802.3z 1000BASE-SX/LX
IEEE 802.3ae 10G Fiber
IEEE 802.3x Full-Duplex Flow Control
IEEE 802.1Q VLAN Tagging
IEEE 802.1w RSTP
IEEE 802.3ad LACP
IEEE 802.1AB LLDP
IEEE 802.3az Energy Efficient Ethernet
IEEE 802.1p Class of Service
Form Factor
Desktop
LED Indicators
Per Port: Speed/Link/Activity
Per System: Power/Status
Buttons
Reset button
Dimensions (HxWxD)
1.67 × 11.42 × 5 inch
Weight (Net)
2.52 lbs
Weight (Gross)
3.45 lbs
Operating Temperature
0°C to 40°C (32°F to 104°F)
Relative Humidity
5%–95% (non-condensing)
Certifications
CE, FCC, VCCI, BSMI
Electromagnetic Compliance
CLASS A
Jumbo Frames
9K
Warranty
2 Years
Note: Use only QNAP memory modules to maintain system performance and stability. For NAS devices with more than one memory slot, use QNAP modules with identical specifications. Warning: Using unsupported modules may degrade performance, cause errors, or prevent the operating system from starting.
* Sound Level Test Environment: Refer to ISO 7779; Maximum HDD loaded; Bystander Position; Average data from 1 meter in front of operating NAS. Designs and specifications are subject to change without notice.
Pricing Notes:
Pricing and product availability subject to change without notice.
QNAP Products
QNAP Switches
QNAP 12-port layer 2 managed switch. Eight 1GbE ports and four 10G SFP+ ports.
Easy management with web browser.
#QSW-M408S-US
Our Price: $299.00