QNAP TEC-2N16 (Enclosure)

GM-1000 enclosure: Supports two NAS nodes for greater flexibility
QNAP Products
Enclosure
GM-1000 enclosure: 3U rackmount, 16 x 3.5-inch SATA drive bays, 2 x 770W power supplies
GM-1000 system enclosure
#TEC-2N16-770W
Our Price: $1,649.00
Click here to jump to more pricing!
Overview:
The TEC-2N16 is a 3U rackmount chassis designed for the GM-1000 system. By housing two independent NAS nodes, the TEC-2N16 minimizes costs and provides greater flexibility in upgrading and maintaining your IT environment to meet future performance, backup, and application requirements.
Available Models
TEC-2N16-770W-
3U rackmount, 16 x 3.5-inch SATA drive bays, 2 x 770W power supplies


An enclosure that houses two replaceable NAS nodes.

A 3U chassis with 16 drive bays (each node supports eight 6 Gb/s SATA drives).

770W redundant power supply, shared by two NAS nodes for reliable 24/7 operation.
Features:
Economic and space-saving design for dual NAS nodes
The TEC-2N16 is a 3U chassis with sixteen 3.5-inch drive bays. Compared with deploying two similar 2U 8-bay rackmount NAS, the TEC-2N16 saves rack space and system costs. The support for replaceable NAS nodes also simplifies upgrades and maintenance.

---
Build a dual NAS, double-performance storage solution
Install two NAS nodes in the TEC-2N16 to enjoy a cost-effective high-performance backup solution and cloud storage gateway applications.
SKU
Enclosure
NAS Node
Processor
Memory
GM-1001
1 x TEC-2N16-770W
2 x TNS-h1083X-E2234-8G
Intel Xeon E-2234
8 GB (2 x 4GB)
GM-1002
2 x TNS-h1083X-E2236-16G
Intel Xeon E-2236
16 GB (2 x 8GB)
TEC-2N16 enclosure specifications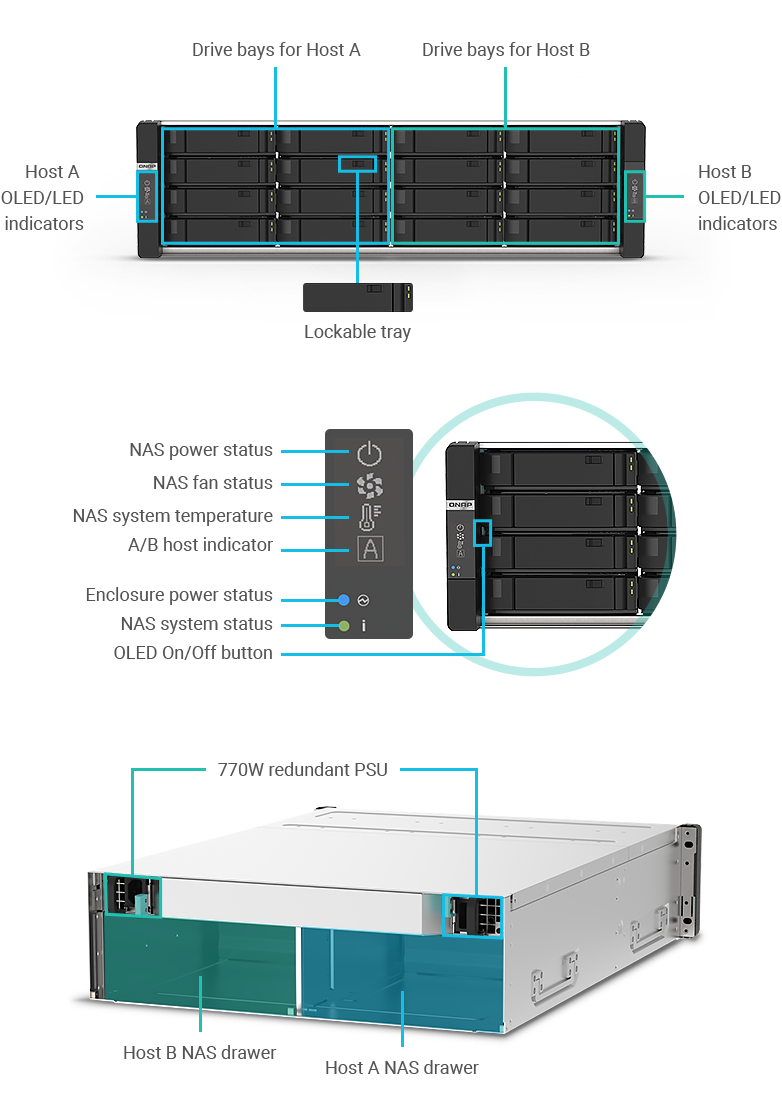 Pricing Notes:
Pricing and product availability subject to change without notice.
QNAP Products
Enclosure
GM-1000 enclosure: 3U rackmount, 16 x 3.5-inch SATA drive bays, 2 x 770W power supplies
GM-1000 system enclosure
#TEC-2N16-770W
Our Price: $1,649.00
Other Accessories
QNAP Rail Kit for ES NAS series
ES1640dc, EJ1600 series
#RAIL-E02
Our Price: $149.00