QNAP QGD-3014-16PT

Desktop Smart Edge PoE Switch Cost-optimized intelligent IP surveillance solution
Sorry, this product is no longer available, please contact us for a replacement.
Click here to jump to more pricing!
Package Content
QNAP QGD-3014-16PT Switch
1 x Power cord
16 x Flat head screws (for 3.5″ HDD)
12 x Flat head screws (for 2.5″ HDD)
1 x Ethernet Cable
2 x Drive tray keys
Quick Installation Guide
Overview:
The QGD-3014-16PT Desktop Guardian PoE managed switch has sixteen 30-watt Gigabit PoE ports, two Gigabit SFP/RJ45 combo ports and two 2.5GbE host management ports. With a dual-processor design including an Intel® Celeron® J4125 quad-core 1.8GHz processor and four 3.5-inch SATA drive bays, the QGD-3014-16PT meets requirements for high-speed transmission, storage space, and virtual machine performance in surveillance applications. Supporting VMs and QTS for versatile applications such as QVR Pro, HBS 3 and QuWAN, the QGD-3014-16PT combines surveillance deployment, video storage computing, remote backup and WAN optimization to create intelligent surveillance infrastructure and remote backup solutions.

Compliant with the IEEE 802.3at PoE+ standard and includes sixteen 30-watt Gigabit PoE ports. Supplies a total power budget of 140 watts to meet the demands of high-powered devices (PDs) and supports smart PoE management.

Supports up to four SATA SSDs or HDDs.

Provides comprehensive Layer 2 management features, such as VLAN, LACP, QoS IGMP Snooping, and Wake-on-LAN for IT staff to efficiently control network bandwidth and enhance security via the user-friendly switch management web interface.

Supports real-time transcoding and has HDMI 2.0 output for direct 4K 60Hz surveillance video playback.

Supports local, remote and cloud backup; centralizes management; and strengthens 3-2-1 backup planning for disaster recovery.

Directly host containers and virtual machines to run various applications. Flexibly install QuWAN SD-WAN, virtual routers, firewalls for various networking management applications.
Features:
Next-Generation Intelligent IP Surveillance and Remote Backup Solution
Modern enterprises need to deploy surveillance systems in various sites with multiple IP cameras, switches, NAS/NVR, and then transmit local data to central servers. This can often be a complicated, inefficient, and expensive process. The QGD-3014-16PT integrates PoE power capabilities, surveillance server, and data backup management, thus simplifying the software and hardware requirements and increasing the transmission and backup efficiency of surveillance videos.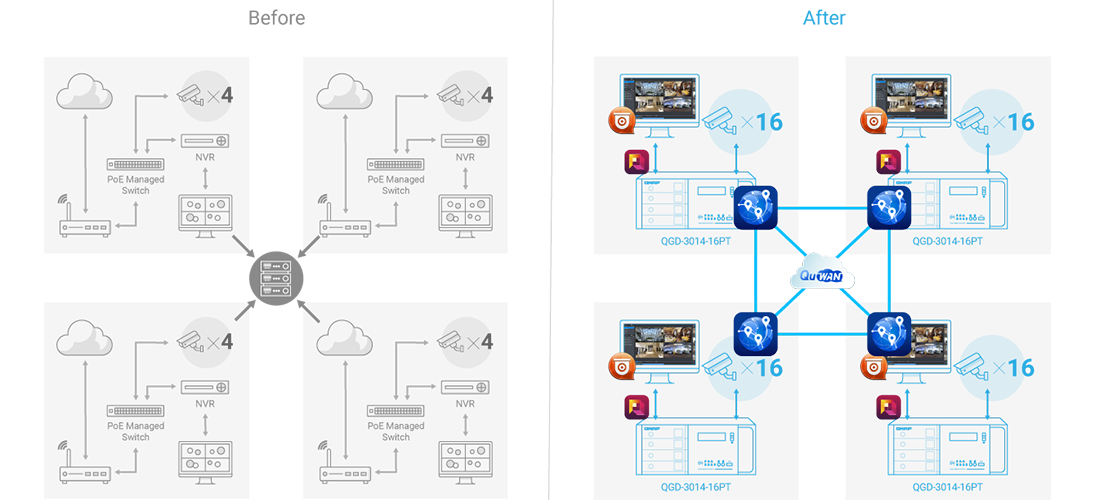 ---
Minimalist design with 4K 60Hz HDMI output for fashionable retail space
The QGD-3014-16PT has a modern design and quiet cooling system to balance system performance, noise, and noise. This stylish appearance allows the QGD-3014-16PT to easily fit in with modern retail spaces and showrooms. The QGD-3014-16PT combines the functions of a PoE switch, NVR, NAS and router, and provides HDMI 2.0 output for direct playback of live feeds up to 4K (3840x2160) 60Hz resolution. By consolidating the functions of multiple devices in a near-silent and stylish form factor, the QGD-3014-16PT satisfies the requirements for smart retail surveillance environments.
---
Intelligent PoE Management for High-Power IP Cameras
Compliant with the IEEE 802.3at PoE+ standards, the QGD-3014-16PT has sixteen ports with 30-watt Gigabit PoE capabilities. The QGD-3014-16PT can supply a total power budget of 140 watts to meet the demands of bullet cameras, fisheye cameras, 4K PTZ cameras and Speed Dome cameras compliant with the ONVIF® standard; or high-power devices such as 4K PTZ camera, IP phones, LED lights, and digital signage. The QGD-3014-16PT supports intelligent PoE management functions, including scheduling, power supply prioritization, and power enabling/disabling. You can obtain real-time network connection status and power consumption information of PDs and configure PDs simultaneously to promote an energy-saving PoE network.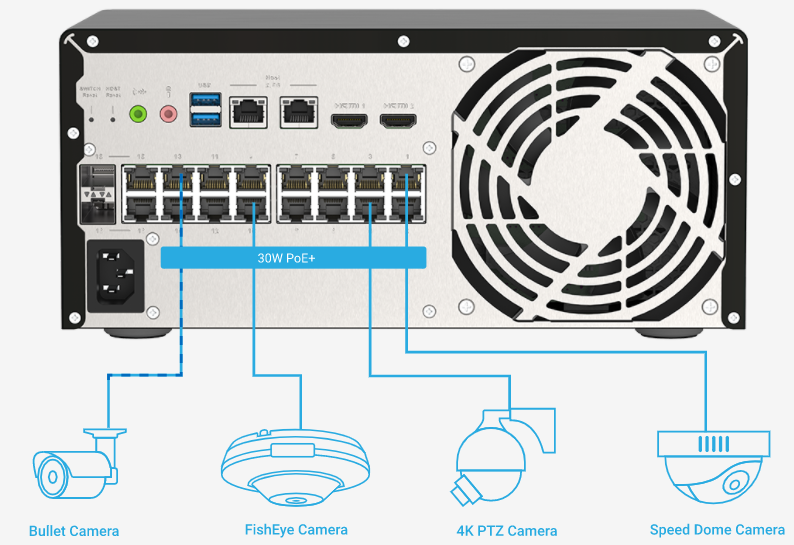 ---
A Total Smart IP Surveillance System with QVR Pro
QVR Pro allows you to arrange a dedicated, independent storage space for surveillance data on the QGD-3014-16PT and leverage the advantages of scalable storage including four drive bays space and flexible storage expansion. With camera management, storage space allocation, playback, failover, and remote live viewing, QVR Pro helps you deploy a comprehensive smart IP surveillance system.
5,000+
compatible IP cameras
16
free IP camera channels
128
maximum IP camera channels
QUSBCam2
recording from USB webcams
---
QVR Pro
Manage cameras and recording space.
QVR Pro Client
Monitor footage and live feeds from different platforms.
QVR Center
Centrally manage multiple QVR Pros for a greater surveillance experience.
QVR Guard
The high-availability failover management app for QVR Pro.
QUSBCam2
Use USB webcams as ONVIF® networked cameras.
---
Integrated HBS 3 Remote Backup Solution for Surveillance Data
HBS 3 consolidates backup, restoration and synchronization functions (via RTRR, Rsync, FTP, CIFS/SMB protocol) for easily transferring data from the QGD-3014-16PT to a remote QGD-3014-16PT, QNAP NAS, remote server, or cloud storage.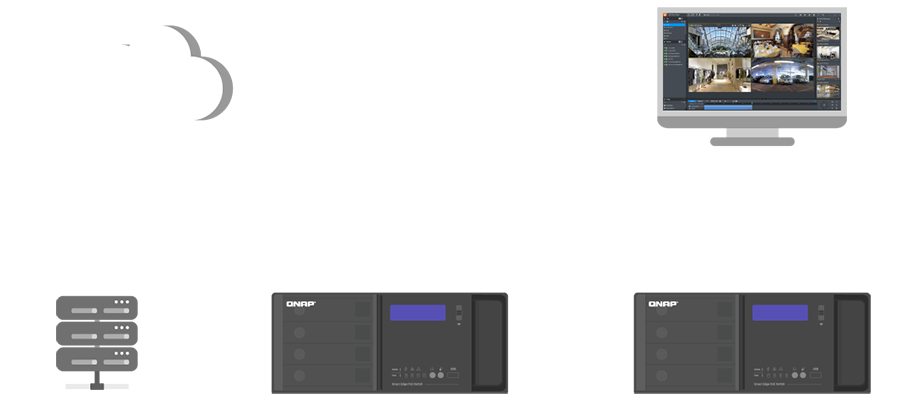 ---
Deploy a multi-site VPN with SD-WAN solution
QuWAN SD-WAN provides full mesh IPsec VPN topology between the QGD Switches and local/remote QNAP devices to fulfill enterprise surveillance video, system data transmission, and filing needs. QuWAN optimizes the network service by using bandwidth aggregation, QoS, and failover, providing a stable surveillance working environment. QuWAN also adopts software defined networking to achieve optimum surveillance network connectivity and supports cloud-centric management over multiple NAS for deploying a resilient IP surveillance infrastructure.
QuWAN Orchestrator

Manage the network using a centralized management cloud platform.

QuCPE Server

The high-performance core VPN Server at the HQ.

NAS

Add branch offices to the VPN Infrastructure with your existing NAS.
QGD Switch

Fulfill surveillance and VoIP applications at small business sites (such as stores).

QHora Router

Provides easy-to-use VPN functions for remote workers.

QVPN

Mobile users can connect to SSL VPN using their PCs, laptops or mobile phones.
---
The First PoE Switch Series with VM Support
The QGD-3014-16PT supports QNAP's QTS operating system and is the world's first PoE switch series that supports hosting virtual machines, containers, and other cloud applications – enabling diverse networking and storage solutions. In addition to QuWAN, QVR Pro, HybridMount, and other applications. The QGD-3014-16PT not only provides an all-in-one networking solution for IP surveillance, storage expansion, network security, and wireless LAN management, but also a SD-WAN solution for connecting to other QNAP devices in multiple sites. The QGD-3014-16PT adopts a dual-processor structure, enabling independent operation of the networking management interfaces (QSS – QNAP Switch System) and QTS. By using the Network Virtual Switch, the data from QTS and QSS can be transferred by Intranet, accelerating computing between end devices and hosts. In addition, the QGD-3014-16PT provides a user-friendly web interface, QuNetSwitch, to help users deploy flexible and secure IT infrastructure.
Please note: QTS and QSS can work independently without interference to ensure continuous operation. For example, when restarting QTS, the QSS PoE power supply will not be interrupted. When rebooting QSS, the VMs on QTS will remain operational.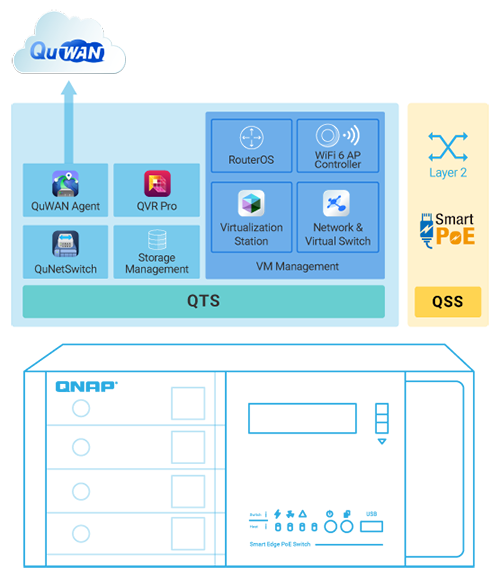 ---
QuNetSwitch: User-Friendly Layer 2 Management Software
The QGD-3014-16PT provides complete functions of Layer 2 management (for example: VLAN, LACP, and LLDP). These can divide network IP traffic into several groups, providing more efficient network management. The QGD-3014-16PT provides powerful security features, including IGMP Snooping, Static MAC, QoS, and WoL. There is also an overview dashboard and graphical statistics analysis that displays all the information about the switch and PDs at a glance, simplifying the management of powered devices.
Port Management
VLAN
Port Trunking
QoS

Port status
Port statistics
Port configuration
Jumbo frame support
IEEE 802.3x flow control
Auto-negotiation of speed and duplex modes

VLAN configuration
Port-based private VLAN
IEEE 802.1Q-based VLAN

Port trunking
LACP groups

Bandwidth control
Traffic classification

IGMP
Security
Management
Advanced Applications

Access Control Lists (ACL): ACL by IP address, ACL by MAC
Static MAC address
Rate limits

Link Layer Discovery Protocol (LLDP): LLDP remote device
Interfaces: Web UI, Telnet, Command Line Interface (CLI)
SNTP, DNS, DHCP client entry

Port mirroring
Loop protection to avoid broadcast loops
Wake-on-LAN
---
More VM applications

FreePBX= IP PBX System
The QGD-3014-16PT offers 15-30 watts PoE per port for SIP IP Conferencing Phones. You can also deploy a secure IP PBX phone system for multiple users by installing FreePBX software.

x Virtual Router x Virtual Firewall = Enhanced Cybersecurity
The QGD-3014-16PT can be transformed into a secure router with a firewall via virtual router and virtual firewall software by installing MikroTik RouterOS and OpenWrt. Flexibly configure routing functions and separate or protect local networks and apply multiple security policies.

X Zabbix = Centralized Network Management Platform
The QGD-3014-16PT supports Zabbix Network Monitoring Software that auto-detects connected SNMP-compliant servers/devices, and monitors network status. Zabbix provides a dashboard and analysis reports for efficient large-scale network management.
---
Flexible storage expansion
Connect a TR RAID, TL USB JBOD, or TL SATA JBOD to expand the storage capacity of the QGD-3014-16PT to accommodate data and business growth.
The total number of TR and TL USB interface storage expansion devices cannot be more than 2.
Expansion units
TL SATA JBOD
TL USB JBOD
TR RAID
Connectivity
PCIe (Multi-channel SATA 6Gbps)
USB-C 3.2 Gen2 10Gbps
TR-002: USB-C 3.2 Gen2 10Gbps
TR-004: USB-C 3.2 Gen1 5Gbps
TR-004U: USB-C 3.2 Gen1 5Gbps
Number of bays
4: TL-D400S, TL-R400S
8: TL-D800S
12: TR-R1200S-RP
16: TL-D1600S
8: TL-D800C
12: TL-R1200C-RP
2: TR-002
4: TR-004, TR-004U
Supported O.S
QNAP QTS, Windows, Linux/Ubuntu
QNAP QTS, Windows, Mac, Linux/Ubuntu
QNAP QTS, Windows, Mac, Linux/Ubuntu
Cerate QTS storage pool
Yes
QTS operations such as disk scan
Yes
Yes
Controlled by RAID disks
H/W RAID Protection
Depends on software RAID management
Yes (RAID 0/1/5/10)
RAID migration & capacity expansion
Yes
Yes
No
Max units supported by the QGD-3014-16PT
2
1*
2*
* The total number of connected TR and TL USB expansion units cannot exceed two.
Complete Surveillance Infrastructure Deployment for Smart Retail
Combining QVR Pro surveillance software, HBS remote backup, and QuWAN SD-WAN solutions, the QGD-3014-16PT is a total package for surveillance deployment. Businesses can centrally manage video capture, playback, and processing to benefit from a cost-optimized smart surveillance solution.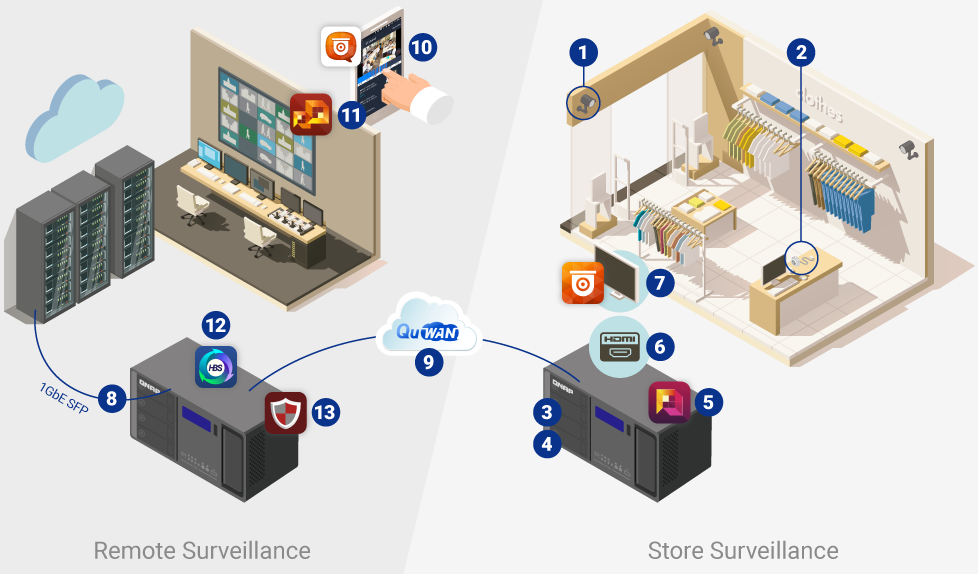 1
PoE power: 15–30-watt Gigabit PoE capabilities to high-power IP cameras.
2
Camera management: QUSBCam2 allows using USB cameras and webcams as ONVIF® cameras.
3
Virtual network: Two 2.5GbE host management ports provide bandwidth for virtual networking.
4
Storage backup: Install four 3.5-inch SATA drives to attain large storage space for backup.
5
Surveillance server: QVR Pro is compatible with a wide range of ONVIF® IP cameras and allows central management of live feeds and recordings.
6
Video output: Connect the QGD-3014-16PT via HDMI output to a 4K display for direct playback of security footage.
7
Surveillance video: Simultaneously view live feeds and recordings via the QVR Pro Client
8
Fiber uplink: 1GbE SFP/RJ45 combo port to connect to a backbone network or data center.
9
Remote VPN: Supports the QuWAN SD-WAN encrypted VPN network for secure connection.
10
Mobile monitoring: Universally access recordings and feeds with the QVR Pro Client mobile app.
11
Central management: Use QVR Center to manage multiple instances of QVR Pro.
12
Remote Backup: HBS 3 enables you to back up recordings and transfer data from one QGD-3014-16PT to a remote QGD-3014-16PT, QNAP NAS, remote server or cloud storage.
13
Surveillance failover: QVR Guard automatically takes over recording tasks if a QVR Pro server fails.
Hardware Specifications:
QGD-3014-16PT-8G
Management Type
Web Managed
CPU
Intel Celeron ® J4125 quad-core 2.0 GHz processor (burst up to 2.7 GHz)
CPU Architecture
64-bit x86
System Memory
8 GB (2 x 4 GB)
Drive Bays
4 x 3.5-inch SATA 6Gb/s, 3Gb/s
Number of Ports
16
1GbE (RJ45)
14
1GbE SFP/RJ45 Combo Ports
2
Total PoE Ports
16
PoE PSE (802.3af, 15.4W)
Ports 1-16
PoE+ PSE (802.3at, 30W)
Ports 1-16
PoE Power Output
Ports 1-16 (Max 30W)
Total PoE Power Budget
140W
USB 3.2 Gen 1 port
3
Management Port
2 x 2.5GbE
HDMI Output
2
Power Supply Description
Internal Power Supply Unit
Max. Power Consumption
250W
Input Power Type
AC
Input Voltage Range
100 ‒ 240VAC, 50/60Hz
MAC Address Table
8K
Total Non-Blocking Throughput
16Gbps
Switching Capacity
32Gbps
Management Interface
Web
Energy Efficient Ethernet (IEEE 802.3az complaint
Fan
System: 12 x 12 cm (12V DC)
Supported Standards
IEEE 802.3u 100Tx Fast Ethernet
IEEE 802.3ab 1000BASE-T Gigabit Ethernet
IEEE 802.3z 1000Base-X
IEEE 802.3x Full-duplex flow control
IEEE 802.3af/at Power-over-Ethernet (PoE)
IEEE 802.1q Virtual LANs (VLAN)
IEEE 802.1p QoS Protocol for Traffic Prioritization
IEEE 802.3az Energy Efficient Ethernet
IEEE 802.3af/at Power-over-Ethernet (PoE)
Form Factor
Rackmount
LED Indicators
Per Port: Link/Activity/Speed/PoE
Per System: Warning/PoE/Fan
LCD Management
Buttons
Device PSU power button
Host power button
Host reset button(load default)
Switch reset button
Operating Temperature
0°C to 40°C (32°F to 104°F)
Relative Humidity
5%–95% (non-condensing), wet bulb: 27˚C (80.6˚F)
Certifications
CE, FCC, VCCI, BSMI
Electromagnetic Compliance
CLASS B
Jumbo Frames
QTS Built-in
Graphics Processors
Intel® HD Graphics 600
Internal Network Bandwidth
2 x 1GbE
Floating Point Unit
Encryption Engine
(AES-NI)
Maximum Memory
8 GB
Memory Slot
2 x SODIMM DDR4
Flash Memory
4GB (Dual boot OS protection)
Drive Compatibility
2.5-inch bays:
2.5-inch solid-state drives
2.5-inch hard disk drives
3.5-inch bays:
3.5-inch solid-state drives
3.5-inch hard disk drives
Hot-swappable
M.2 SSD Slots
2 (M.2 B-Key SATA 2230)
SSD Cache Acceleration Support
File System: Internal Hard Drive
EXT4
File System: External Hard Drive
EXT3, EXT4, NTFS, FAT32, HFS+, exFAT (optional license)
Warranty
2 Years
Pricing Notes:
Pricing and product availability subject to change without notice.