QNAP QVP-41B

NVR Server X Smart PoE Switch, Building Complete Surveillance Network
QNAP Products
QVR Pro Series Appliances
QNAP 8 Bay NVR, 8CH (Max Channels: 24), VMS built-in, IP Surveillance, HDMI output for local display, 14 1GbE RJ45 PoE ports, 2 1GbE Combo SFP/RJ45 Combo Ports. 2 2.5 GbE RJ45 Port
Intel Celeron® J4125 4-core 2.00GHz (Burst uptp 2.70GHz), 8GB RAM, SATA 6Gb/s, GbE LAN x 18, 14 1GbE RJ45 PoE ports(IEEE 803.3at PoE ++ supply 30W), 2 1GbE SFP+/RJ45 combo PoE ports(IEEE 803.3at PoE ++ supply 30W), 2 x 2.5 GbE RJ45 Port, 250W total power comsumption, 140W PoE power budget, 4 X 3.5″ HDD, 2 x M.2 SATA SSD, 2 X USB3.0
#QVP-41B-8G-P-US
Our Price: $999.00
Click here to jump to more pricing!
Package Content
QNAP QVP-41B
1 x Power cord
4 x HDD tray
16 x Flat head screw (for 3.5″ HDD)
12 x Flat head screw (for 2.5″ HDD)
2 x Drive tray keys
Ethernet cable
Quick Installation Guide
Overview:
The QVP-41B NVR network surveillance server supports real-time video/audio monitoring, high-resolution recording, and playback from multiple IP cameras. PoE switch functionality is also provided by the QVP-41B, supporting connecting all kinds of PoE cameras and devices and creating intelligent surveillance infrastructure for enterprise, SMBs and families. With four 3.5-inch SATA drive bays, sixteen 30-watt Gigabit PoE ports, two RJ45 combo ports, and two 2.5GbE host management ports the QVP-41B provides great storage space and high-speed networking to meet the requirements of small/medium monitoring environments.
Supports thousands of cameras from over 150 brands.
Compliant with the IEEE 802.3at PoE+ standard and includes sixteen 30-watt Gigabit PoE ports. Supplies a total power budget of 140 watts to meet the demands of high-powered devices (PDs) and supports smart PoE management.
Monitor surveillance feeds with the built-in QVR Smart Client through HDMI output, Windows®, Mac® and mobile devices.
QVP-41B vs. other NAS-based surveillance systems. What's the difference?
In a conventional NAS-based surveillance system, surveillance is just one of many applications available to users. As all these applications share NAS system resources and storage space, surveillance performance could be impacted. The QVP-41B overcomes this by providing dedicated storage space and reserving full system resources for surveillance, delivering the utmost performance to fulfill professional surveillance system requirements. The QVP-41B integrates PoE switch functionality and supports connecting all kinds of PoE cameras and devices. It also comes with built-in camera channel licenses and essential applications to enable local installation without requiring an internet connection. Simply install the hard drives and power up the QVP-41B to start the installation process.
Features:
Intelligent PoE Management for High-Power IP Cameras
The QVP-41B is compliant with the IEEE 802.3at PoE+ standard and has sixteen ports with 30-watt Gigabit PoE capabilities. The QVP-41B can supply a total power budget of 140 watts to meet the demands of bullet cameras, fisheye cameras, 4K PTZ cameras and Speed Dome cameras compliant with the ONVIF® standard; or high-power devices such as 4K PTZ camera, IP phones, LED lights, and digital signage. The QVP-41B supports intelligent PoE management functions, including scheduling, power supply prioritization, and power enabling/disabling. You can obtain real-time network connection status and power consumption information of PDs and configure PDs simultaneously to promote an energy-saving PoE network.
---
Comprehensive camera support and management
The QVP-41B supports thousands of camera models from over 150 brands with a variety of image formats (including cameras that use ONVIF and RTSP/ HTTP streaming). Even USB webcams are supported, allowing home and budget-conscious users to quickly build surveillance solutions tailored to their environment while providing convenient camera management.
---
Minimalist design with 4K 60Hz HDMI output for fashionable retail space
The QVP-41B has a modern design and quiet cooling system that provides dependable system performance while minimizing heat and noise. This stylish appearance allows the QVP-41B to easily fit in with modern retail spaces and showrooms. The QVP-41B combines the functions of a PoE switch, NVR, NAS and router, providing HDMI 2.0 output for direct playback of live feeds up to 4K (3840x2160) 60Hz resolution. By consolidating the functions of multiple devices in a near-silent and stylish form factor, the QVP-41B satisfies the requirements of smart retail surveillance environments.
---
QVR Pro Client
The QVR Pro Client software can be installed on Windows® and Mac® devices, allowing you to monitor from different platforms and flexibly switch from live view or playback mode to take full control over monitored areas.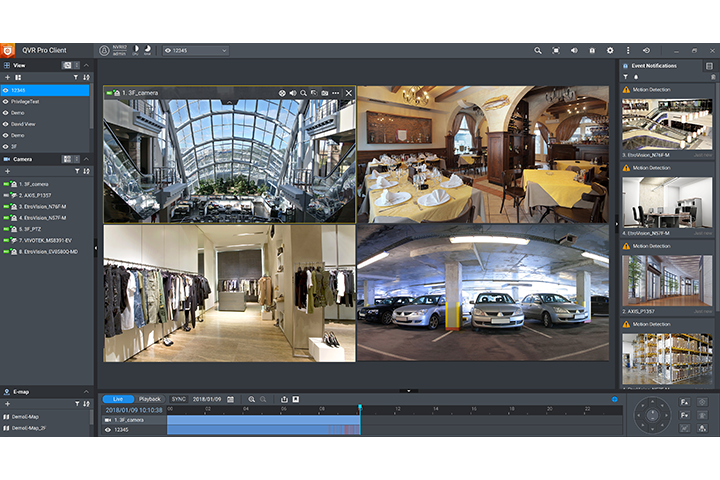 Live view and playback
Monitor the live view of multiple channels and play recordings on a single interface. You can also view recordings at a specific time by clicking the timeline or by defining a time range.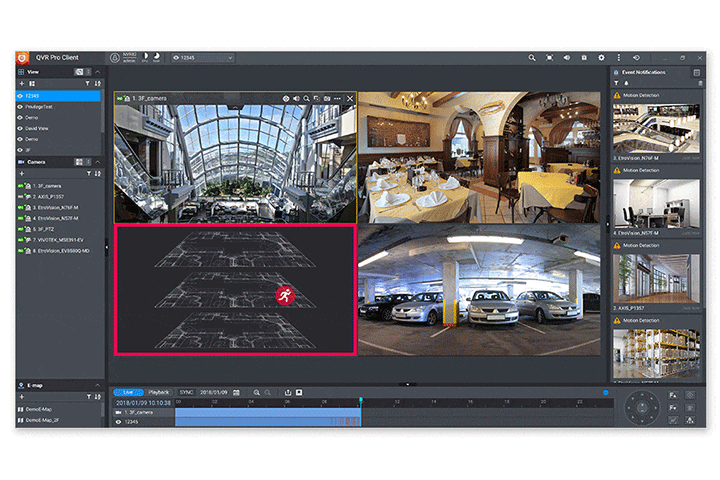 Multiple Notification Methods
The event notification provides multiple ways of being informed of emerging events, including flashing red borders of channels, alert buzzers, and the motion icon on the e-map.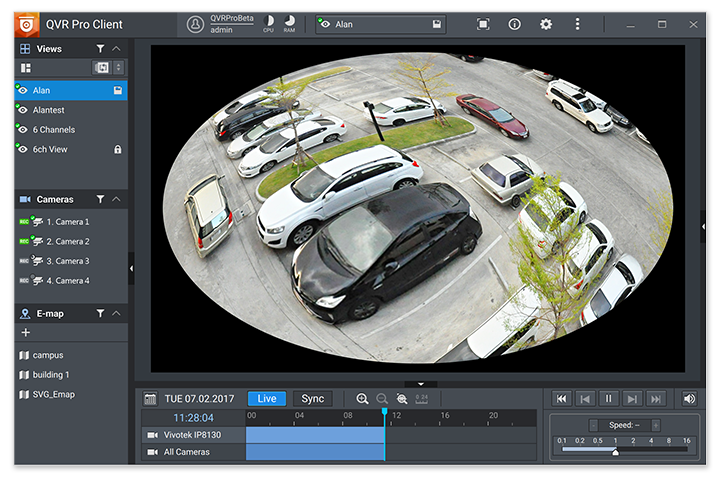 Qdewarp Technology
The innovative Qdewarp enables users to view standard fisheye camera recordings in proportional ratios and sizes without affecting original recordings. The distorted parts on the edges can be turned into a clear panoramic view.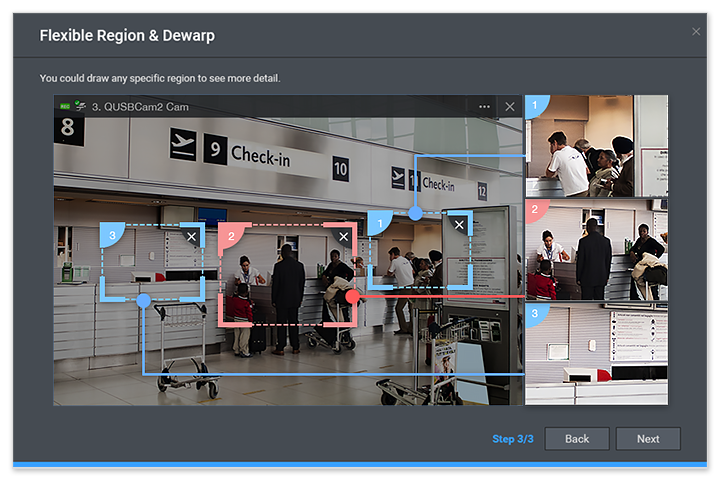 Region of Interest
The Region of Interest (ROI) feature allows for viewing multiple regional images from the same camera in live view and playback mode. You can define and enlarge multiple areas to watch the area more closely.
---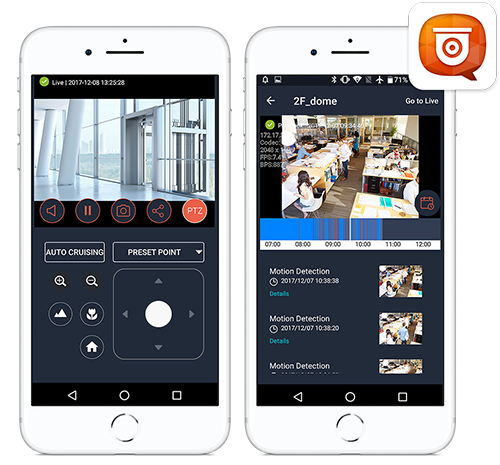 Easy remote monitoring with the QVR Pro Client mobile app
The QVR Pro Client mobile app allows you to remotely monitor multiple channels simultaneously. If your network connection is slow or metered/capped, you can choose the low-bandwidth mode to view a bandwidth-optimized stream without affecting the quality of recordings. In addition, you can remotely set the camera's preset point or control the PTZ cameras within the app.
---
Complete Surveillance Infrastructure Deployment for Smart Retail
Combining QVR Pro surveillance software, HBS remote backup, and QuWAN SD-WAN solutions, the QVP-41B is a total package for surveillance deployment. Businesses can centrally manage video capture, playback, and processing to benefit from a cost-optimized smart surveillance solution.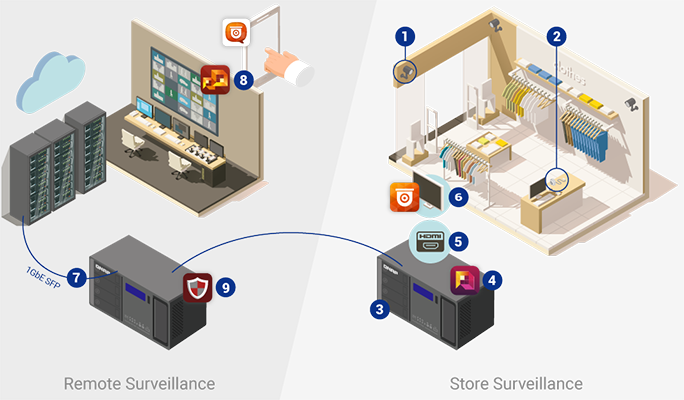 PoE power: 15–30-watt Gigabit PoE capabilities to high-power IP cameras.
Camera management: QUSBCam2 allows using USB cameras and webcams as ONVIF® cameras.
Storage backup: Install four 3.5-inch SATA drives to attain large storage space for backup.
Surveillance server: QVR Pro is compatible with a wide range of ONVIF® IP cameras and allows central management of live feeds and recordings.
Video output: Connect the QVP-41B via HDMI output to a 4K display for direct playback of security footage.
Surveillance video: Simultaneously view live feeds and recordings via the QVR Pro Client
Fiber uplink: 1GbE SFP/RJ45 combo port to connect to a backbone network or data center.
Central management: Use QVR Center to manage multiple instances of QVR Pro.
Surveillance failover: QVR Guard automatically takes over recording tasks if a QVR Pro server fails.
---
Expand your surveillance applications – Control, failover, and facial recognition
QVR Center
QVR Pro Control Center
Centrally manage multiple QVR Pro servers installed in different areas. You can also centrally monitor live feeds, play back recordings and receive event notifications from multiple QVR Pro servers, helping you reduce response times to events.
QVR Guard
High-availability Failover Management
Protect QVR Pro from system failure and ensure uninterruptible surveillance recordings. If your QVR Pro fails or crashes, QVR Guard automatically takes over recording tasks, providing dependable redundancy for your surveillance system.
QVR Smart Search
QVR Smart Search can find event recordings within a time period and specified area. Instead of manually searching through a whole day of event videos, QVR Smart Search helps you efficiently and accurately search through hundreds of hours of video recordings from hundreds of cameras to find specific events.
---
Extend hardware warranty up to 5 years
The QVP-41B is backed by a 2-year warranty at no additional cost. You can also purchase a warranty extension that extends your warranty coverage up to 5 years.
Hardware Specifications:
QVP-41B
OS
QVR Pro OS (QVP)
CPU
Intel Celeron® J4125 quad-core 2.0 GHz processor (burst up to 2.7 GHz)
CPU Architecture
64-bit x86
System Memory
8 GB SODIMM DDR4 (2 x 4 GB)
Graphic Processors
Intel® HD Graphics 600
Maximum Memory
8 GB (2 x 4 GB)
Memory Slot
2 x SO-DIMM DDR4
Flash Memory
4GB (Dual boot OS protection)
Max Live Cameras (Local Display)
24ch @ All 720p,H.264, 30FPS
12ch @ All 1080p,H.264, 30FPS
Max Playback Cameras (Local Display)
12
Max Concurrent Connection (Client)
8 (4 live cameras / per remote client)
*The number of client concurrent connection varies by live cameras
Embedded Channel
8
Max Channel
24
H264 / 1920x1080 / 30FPS
Max Throughput
264 Mbps
Drive Bay
4 x 3.5-inch SATA 6Gb/s, 3Gb/s
The system is shipped without HDD.
Drive Compatibility
2.5-inch bays:
2.5-inch solid-state drives
2.5-inch hard disk drives

3.5-inch bays:
3.5-inch solid-state drives
3.5-inch hard disk drives
Hot-swappable
M.2 SSD Slot
2 x M.2 2280 SATA x2 slots
Gigabit Ethernet Port (RJ45)
14
1GbE SFP/RJ45 Combo Ports
2
PoE PSE (802.3af, 15.4W)
Ports 1-16
PoE+ PSE (802.3at, 30W)
Ports 1-16
PoE Power Output
140W
Total PoE Power Budget
Ports 1-16 (Max 30W)
2.5 Gigabit Ethernet Port
2
USB 3.2 Gen 1 port
3
HDMI Output
2, HDMI 2.0 (up to 3840 x 2160 @ 60Hz)
Form Factor
Tower
LED Indicators
HDD 1-4, Switch, Host, Warning, PoE, Fan
LCD Display/ Button
Yes
Buttons
Power, Reset
Dimensions (HxWxD)
130 × 295 × 224.8 mm
Weight (Net)
4.08 kg
Weight (Gross)
5.34 kg
Operating temperature
0 - 40 °C (32°F - 104°F)
Relative Humidity
5-95% RH non-condensing, wet bulb: 27˚C (80.6˚F)
Power Supply Unit
250W, 100-240V
Power Consumption: HDD Sleep Mode
26.33 W
Power Consumption: Operating Mode, Typical
43.584 W
With WD10EFRX drives fully populated
Fan
System fan: 120 x 120mm, 12VDC
System Warning
Voice prompts or Buzzer
Tray Locker
Yes
File System: Internal Hard Drive
EXT4
RAID Recovery
Online RAID Capacity Expansion
Online RAID Level Migration
RAID 10+ hot spare
RAID 10
RAID 5+ Spare
RAID 5
RAID 1
RAID 0
JBOD
Single Disk
Global Hot Spare
Wake on LAN (WOL)
Schedule Power On/Off (15 settings)
Telnet & SSH logins (Admin only)
Syslog Server & Client
Language
English, German, French, Italian, Spanish, Polish, Swedish, Danish, Norwegian, Finnish, Russian, Japanese, Korean, Dutch, Czech, Traditional Chinese, Simplified Chinese, Turkish, Hungarian, Romanian, Thai, Portuguese/Brazil, Greek
Supported Standards
CE, FCC, VCCI, BSMI
Electromagnetic Compliance
Class A
Jumbo Frames
Safety Standard
IEEE 802.3u 100Tx Fast Ethernet
IEEE 802.3ab 1000BASE-T Gigabit Ethernet
IEEE 802.3z 1000Base-X
IEEE 802.3x Full-duplex flow control
IEEE 802.3af/at Power-over-Ethernet (PoE)
IEEE 802.1q Virtual LANs (VLAN)
IEEE 802.1p QoS Protocol for Traffic Prioritization
IEEE 802.3az Energy Efficient Ethernet
IEEE 802.3af/at Power-over-Ethernet (PoE)
Note: Use only QNAP memory modules to maintain system performance and stability. For NAS devices with more than one memory slot, use QNAP modules with identical specifications.
Warning: Using unsupported modules may degrade performance, cause errors, or prevent the operating system from starting.
* Sound Level Test
Environment: Refer to ISO 7779; Maximum HDD loaded; Bystander Position; Average data from 1 meter in front of operating NAS.
Product images are for illustrative purposes only and may differ from the actual product. Due to differences in monitors, colors of products may also appear different to those shown on the site.
Designs and specifications are subject to change without notice.
Pricing Notes:
Pricing and product availability subject to change without notice.
QNAP Products
QVR Pro Series Appliances
QNAP 8 Bay NVR, 8CH (Max Channels: 24), VMS built-in, IP Surveillance, HDMI output for local display, 14 1GbE RJ45 PoE ports, 2 1GbE Combo SFP/RJ45 Combo Ports. 2 2.5 GbE RJ45 Port
Intel Celeron® J4125 4-core 2.00GHz (Burst uptp 2.70GHz), 8GB RAM, SATA 6Gb/s, GbE LAN x 18, 14 1GbE RJ45 PoE ports(IEEE 803.3at PoE ++ supply 30W), 2 1GbE SFP+/RJ45 combo PoE ports(IEEE 803.3at PoE ++ supply 30W), 2 x 2.5 GbE RJ45 Port, 250W total power comsumption, 140W PoE power budget, 4 X 3.5″ HDD, 2 x M.2 SATA SSD, 2 X USB3.0
#QVP-41B-8G-P-US
Our Price: $999.00