QNAP QTS 4.5.1

Flexible virtualization Modern networking Efficient management
QTS 4.5.1 demonstrates QNAP's ongoing commitment to making innovative and advanced operating systems for NAS. Virtualization is greatly enhanced with the support for VM live migration. Networking is both strengthened and extended, including support for Wi-Fi 6. System management is also bolstered with the support for Azure AD DS, centralized log management, and convenient console management for troubleshooting.
Enhanced Virtualization
Virtualization is essential for optimizing resource utilization and managerial efficiency. Organizations can enjoy greater flexibility for dynamic IT needs to increase operational productivity and service reliability.
VM Live Migration
Virtualization Station 3.5 supports VM live migration. When NAS software/hardware must be updated/maintained, you can move running VMs between different NAS with no impact on VM availability, providing flexibility and efficiency for VM applications. VM live migration can only be used with NAS with the same processors (i.e. Intel & Intel, AMD & AMD).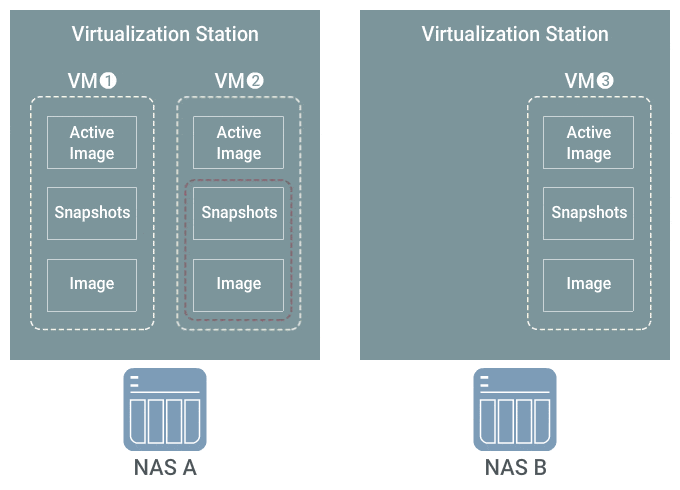 Enhanced Networking
Build a secure network environment for QNAP NAS, usher in a new Wi-Fi 6 era, and empower your NAS with Fibre Channel capabilities.
Wi-Fi 6 and WPA2 Enterprise

Install a QXP-W6-AX200 Wi-Fi 6 PCIe card in your QNAP NAS to add 802.11ax high-speed wireless connectivity and remove the need for Ethernet cables. QTS 4.5.1 adds support for WPA2 Enterprise that provides wireless security suited for enterprise networks, including certificate authority, encryption key, and enhanced encryption/decryption.

Learn more: QXP-W6-AX200 Wi-Fi 6 wireless network card

QuFirewall

Supports IPv6, firewall access lists, and GeoIP filtering to restrict access upon the geographical location for higher network security. You can also install the pfSense VM from the Virtualization Station VM Marketplace to attain advanced networking and security deployments to protect NAS data.

QNAP NAS supports Fibre Channel SAN

Common Fibre Channel SAN (Storage Area Networks) are closed network environments, and their devices are often expensive and lacking deployment flexibility. By installing a QNAP dual-port 16Gb/32Gb Fibre Channel expansion card in a QNAP NAS, the NAS can be added to a SAN environment at an affordable price point. This allows you to leverage the many benefits from QNAP NAS including snapshot protection, Qtier™ tiering storage, SSD cache acceleration, and more.
Enhanced Management
From access permissions, multi-device management, system logs, and troubleshooting, QTS 4.5.1 simplifies IT operational management and allows staff to focus their efforts on more important tasks.

Add QNAP NAS into Azure AD Domain Service
Microsoft Azure AD DS provides managed domain services such as domain join, group policy, and Lightweight Directory Access Protocol (LDAP). By adding a QNAP NAS into Azure AD DS through site-to-site VPN connection or through Windows Server using Azure AD Connect, IT staff are free from deploying and managing domain controller locally, and have greater efficiency in managing user accounts and permissions for multiple NAS devices. It provides flexibility, scalability, and extreme convenience.
Note: Azure AD DS supports x86 (Intel or AMD processor) NAS.

QuLog Center – NAS log management
The new QuLog Center provides graphical statistic rankings of error/warning events and access, assisting you in quickly monitoring and responding to potential system risks. QuLog Center supports labels, advanced search, and log sender/receiver. Logs from multiple QNAP NAS can be centralized to the QuLog Center on a specific NAS for efficient management.

SNMP – Remotely manage multiple NAS on networks
Supports SNMP to facilitate network device monitoring. With SNMP enabled, you can easily monitor the status of managed QNAP NAS devices using a SNMP management system.

Console Management - Convenient NAS troubleshooting
When performing maintenance/troubleshooting, or if IT/support staff are unable to access QTS via HTTP/S, Console Management can be used to perform basic configuration and debugging. Console Management is available using SSH, Serial Console, or by connecting an HDMI display, keyboard, and mouse to the NAS.
Wider range of SAS/SATA/USB expansion solutions
QTS 4.5.1 enhances storage scalability by supporting more QNAP expansion units, including the high-speed TL SAS/SATA JBOD series and hassle-free TL USB JBOD series for satisfying efficient and economic file storage and backup needs.
High-performance
The TL SAS JBOD has four SAS wide ports, and each SAS wide port combines four SAS 12Gb/s channels. By connecting the TL SAS JBOD to the host NAS and daisy-chaining multiple TL SAS JBODs with two wide ports configured with link aggregation, the solution delivers up to 96Gbps transfer speeds. The TL SATA JBOD supports multi-lane SATA 6Gb/s transfer, achieving speeds of up to 64Gbps. The TL USB JBOD provides a USB 3.2 Gen2 port that supports up to 10Gbps transfer speeds.
Note: TL SAS JBOD will be available soon.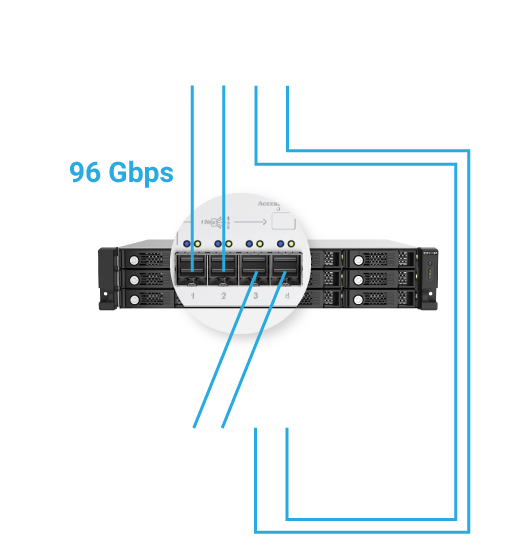 Designed for PC and NAS
High-capacity TL JBOD series supports not only QNAP NAS but also Window®, Linux® (Ubuntu®), or Mac® computers/servers.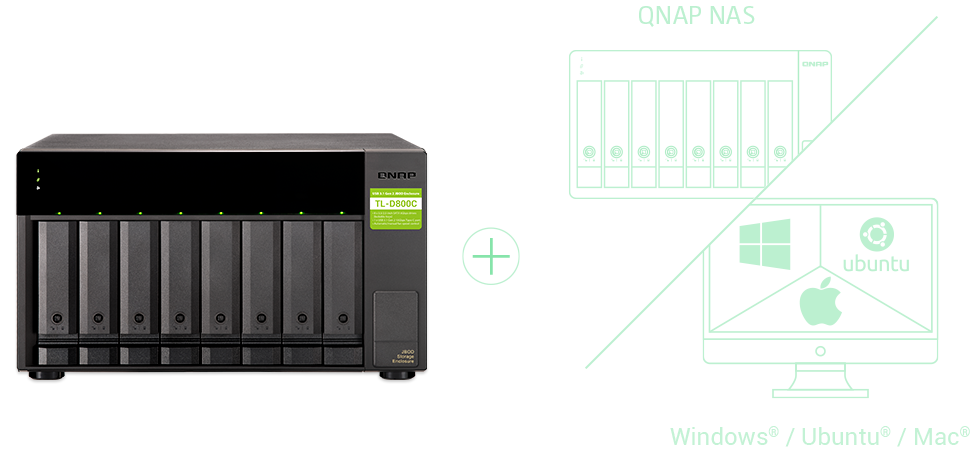 JBOD management software
NAS users can set up and manage JBODs through QTS Storage & Snapshots Manager. PC users can monitor and manage the JBOD using the QNAP JBOD Manager utility.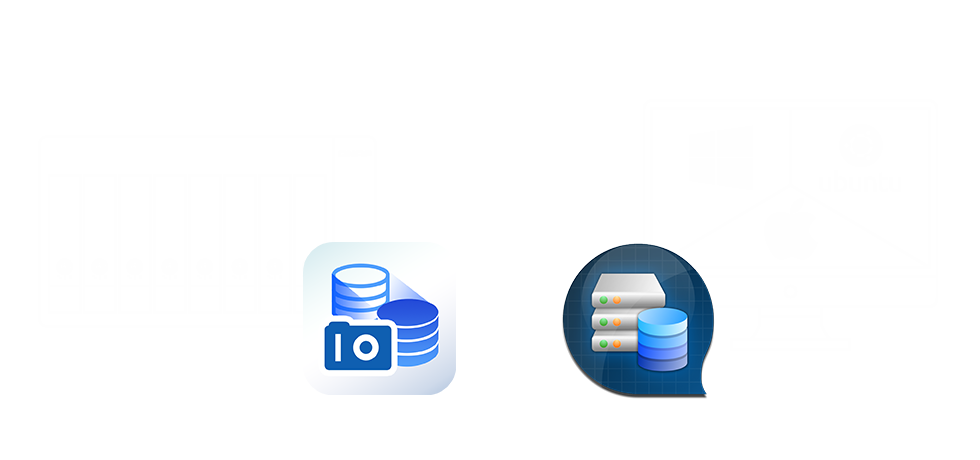 QuTScloud
---
An exciting Cloud NAS solution that revolutionizes how business data is deployed and managed. Provides an app-aware NAS experience on public clouds and virtualization environments.

HBS 3
---
QuDedup technology deduplicates data at the source, helping to reduce the time and storage space needed for backup.

VJBOD Cloud
---
Seamlessly connect local storage with cloud object storage to easily backup local application data to the cloud.

HybridMount
---
Enabling local caching on NAS for low-latency access to the connected cloud services.
Deploy NAS in wireless environments
QTS supports the Wi-Fi Client function, enabling a NAS with a PCIe wireless network card (such as a QXP-W6-AX200) or compatible USB Wi-Fi adapter to wirelessly connect to access points. Free yourself from Ethernet cables now with a wireless NAS!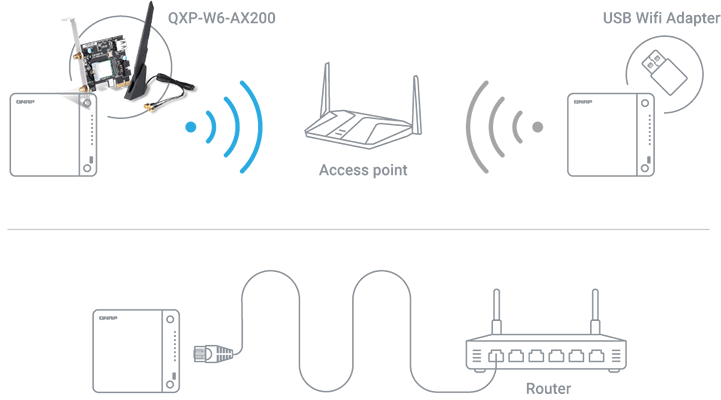 Easy Access with a Wireless NAS
With a QXP-W6-AX200 Wi-Fi 6 wireless network card installed in your NAS, you can free yourself from Ethernet cables and access all your stored files and multimedia over a high-speed wireless connection.
System requirements:
x86-based NAS (Intel and AMD), or 64-bit ARM-based NAS with a PCIe slot.
QTS 4.4.3 or QuTS hero 4.5.0 (or later).
Enhanced system security
To ensure NAS system security, the default password of the "admin" account is now the first MAC address without special characters. For example, if the MAC address is 11:22:33:44:55:66, the default password will be 112233445566. You can check the MAC address via Qfinder Pro or from the sticker on the device.
Contact a QNAP Solutions Specialist today to Learn More!