QNAP QuCPE-3034

Network Virtualization Premise Equipment with an Intel® Atom Refresh eight-core processor, suitable for deploying virtual networks in multiple edge offices
QNAP Products
QNAP Routers
QNAP Desktop 12 Port uCPE QuCPE-3034-C3758R-16G-US
Intel Atom C3758R 8C 2.4GHz Processor, 16GB DDR4 RAM (2 x 288pin DDR4-2400 slots Max 128GB), 2 x M.2 2280 NVMe slots, 4*10GbE SFP+, 8*2.5GbE Ports, 1 USB 3.2 Gen 1 Ports, 1 USB 2.0 Port
#QuCPE-3034-C3758R-16G-US
Our Price: $1,299.00
Click here to jump to more pricing!
Package Content
QNAP QuCPE-3034
1 x Ethernet cables
1 x Power cord
2 x M.2 SSD Heatsink
Rackmount kit
Quick Installation Guide
Overview:
QNAP's QuCPE-3034 Network Virtualization Premise Equipment is a universal virtualization platform specifically designed for SMBs. The QuCPE-3034 adopts the high-performance Intel® Atom Refresh eight-core processor that supports Intel® QAT, Smart NIC SR-IOV and DPDK hardware acceleration technologies while also providing eight 2.5GbE RJ45 ports and four 10GbE SFP+ ports. With enhanced bandwidth and computing performance for running VNFs and connecting SD-WAN (Supporting VPN/WireGuard), the QuCPE-3034 is suitable for multi-user and multi-tasking business applications. The QuCPE-3034 also features the QNE (QNAP Network Equipment) OS for chaining VNF services and AMIZ Cloud centralized deployment and management platform to realize flexible Zero Touch Provisioning.
Available Models
QuCPE-3034-C3758R-16G-
Intel® Atom Refresh C3758R 8-core/8-thread 2.4GHz processor, 16 GB DDR4 ECC memory (2 x 8GB); 4 x 10GbE SFP+ ports、8 x 2.5GbE RJ45 ports
Network Function Virtualization
The QuCPE-3034 is powered by QNAP's proprietary QNE operating system, providing convenient and intuitive Network Service Composer with the world's first visualized VM / VNF service chaining topology.
Multi-site Network Infrastructure
The incorporated QuWAN SD-WAN solution helps achieve multi-site network infrastructure expansion.
Hardware Acceleration Technologies
Intel® QAT, Smart NIC SR-IOV and DPDK hardware acceleration technologies offer superior computing power for virtualization deployment and enhance SD-WAN and VPN transmission efficiency.
Cloud Management
AMIZ Cloud is a centralized management platform that enables HQ-based IT staff to centrally monitor all edge devices, virtual machines, and containers. The QuCPE-3034 helps enterprises achieve Zero Touch Provisioning to enhance IT deployment efficiency and reduce maintenance costs.
Installation-On-Demand
The Application Store is a software platform providing various Virtualized Network Functions (VNF) and applications including firewalls and software routers.
WireGuard VPN
Supports WireGuard VPN to offer privacy protection and advanced encrypted security transmission for faster and stable remote working networks.
Features:
Build a multi-site network infrastructure for SMBs and Micro-enterprises
QNAP's high-performance QuCPE integrates the QuWAN SD-WAN solution, AMIZ Cloud platform, and WireGuard VPN. Small businesses and micro-enterprises can flexibly build multi-site network infrastructure by deploying a QuCPE Series 7 in their headquarters, and QuCPE Series 3 in their branches and workplaces.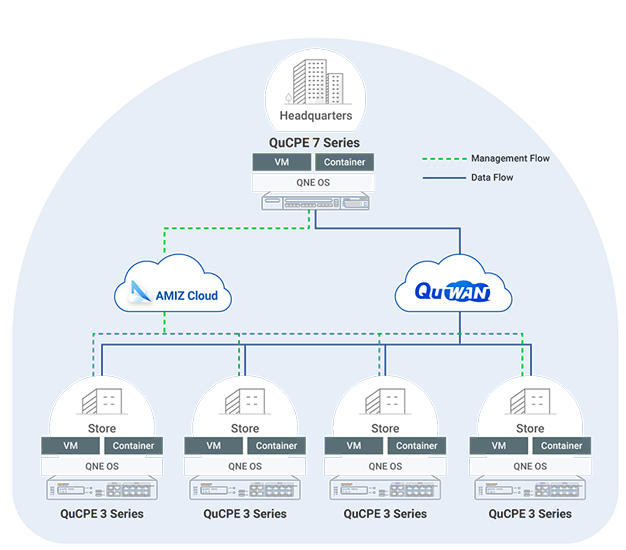 ---
Easily deploy virtual network environments with the 2-in-1 Premise Equipment
When deploying virtualized environments, Enterprises often choose to install costly enterprise-grade solutions on edge servers or free solutions with limited technical support – a hard decision for resource-constricted SMBs. In addition, simultaneously running multiple VMs can impact network performance. QNAP's QuCPE Network Virtualization Premise Equipment combines hardware acceleration technologies, QNAP's proprietary QNE Network operating system and the AMIZ Cloud centralized management platform to help SMBs build a highly-optimized virtual network infrastructure.
---
---
The QNE Network Operating System completes the virtual network infrastructure
QNAP's proprietary QNE Network operating system supports the intuitive Network Service Composer and Software-Defined WAN (SD-WAN), allowing for flexible network deployment and multi-site network infrastructure expansion. By supporting Virtual Network Functions (VNF), Virtual Machines and Containers, QNE Network integrates network, computing, and application services to realize network virtualization, application virtualization and efficient management, greatly lowering management and maintenance complexity.
---
AMIZ Cloud - powerful centralized VM management platform
The AMIZ Cloud centralized management platform enables HQ-based IT staff to centrally monitor all edge devices, virtual machines, and containers. Supporting troubleshooting, and remote management via the Account Center, the QuCPE-3034 helps enterprises achieve Zero Touch Provisioning, thus enhancing IT deployment efficiency and reducing maintenance costs.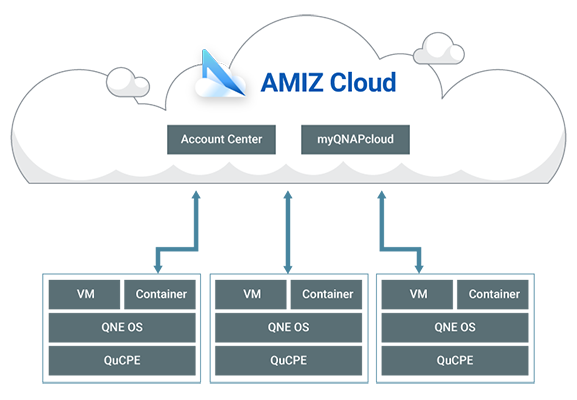 ---
Efficient management via Service Composer with visualized topology
With the visualized topology of the Network Service Composer, you can easily set up VNFs or VMs, create virtual switches, and allocate physical network resources for chained services by drag and drop. When settings change, you can directly add/remove individual VNFs using the service composer, greatly simplifying operational network combination.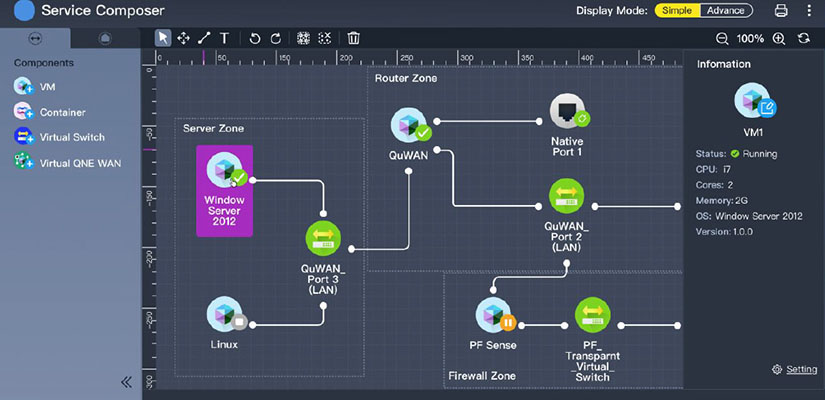 ---
SD-WAN enables chaining network services
QNE incorporates QNAP's QuWAN SD-WAN solution (subscription-free) to form encrypted VPN tunnels with other QNAP devices based in multiple sites and achieve multi-site network services chaining. For example, you can automatically create a firewall network (using QuWAN and pfSense VNFs) to enhance WAN security in the Service Composer UI using drag-and-drop.
Optimize LAN/WAN performance
Service Composer also supports SR-IOV and QuWAN SD-WAN, which greatly improves the WAN transmission of the QuCPE-3034 that runs QuWAN, while also helping users to enjoy high-speed and secure LAN and WAN network transmission at the same time.
Enhanced security
You can automatically create a firewall network (using QuWAN and pfSense VNFs) to enhance WAN security in the Service Composer UI using drag-and-drop.

---
Run your VM/VNF Directly on QuCPE
QNE Network inherits versatile virtual applications from the QNAP QTS system. QuCPE can simultaneously run multiple virtual machines, software containers, and even bespoke user-made virtual machines in Virtualization Station and Container Station, assisting SMBs in improving deployment and management flexibility while streamlining hardware costs.
---
Intel hardware acceleration technologies boost virtual network performance
Specifically designed for running virtualization applications, the QuCPE-3034 Network Virtualization Premise Equipment adopts multiple Intel hardware acceleration technologies to allow direct hardware access, thus enhancing VM and virtual network transmission performance.
| | |
| --- | --- |
| DPDK (Data Plane Development Kit) | Allows data to bypass the OS Kernel and directly enter user space to offer a double packet transmission rate (Total T/R x L2) and improve overall virtualization application performance. |
| Smart NIC SR-IOV (Single Root I/O Virtualization) | By installing an SR-IOV compatible PCIe SmartNIC, you can allocate bandwidth resources from a physical network card directly to VMs. With traffic bypassing the Hypervisor vSwitch, it helps enhance I/O throughout and network efficiency, ensuring reliable VM applications and reduced CPU overheads. |
| Intel QAT (Intel QuickAssist Technology) | Offloads computationally-intensive compression and improves IPsec cryptography VPN performance. |
---
Smart IT tools for network management efficiency
QNE provides comprehensive management features for Smart IT network management.
| | |
| --- | --- |
| Notification Center | Consolidates QTS system events and alerts, providing a single-app solution for notifications instead of having to configure individual settings in multiple apps. Notifications can be sent through email, SMS, and other communication apps. |
| QuLog Center | Centralizes statistical rankings of error/warning events and access, assisting IT staff in monitoring and responding to potential system risks. |
| Security Center | Provides security management for IT staff, including managing SSL certificates. Other features include automatically detecting history edits to prevent malicious edits. |
| Zabbix | Zabbix is a third-party solution that automatically detects devices and monitors network status. Zabbix provides user-friendly topology and network reporting, suitable for enterprise network management. |
---
Supports third Party Virtual Network Functions
The Application Store and VM Marketplace provides multiple free and premium VNF and applications that users can install on demand.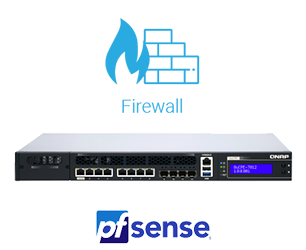 Firewall Software
Virtual firewall software (like pfSense) help enterprises separate or protect local networks and apply multiple security policies.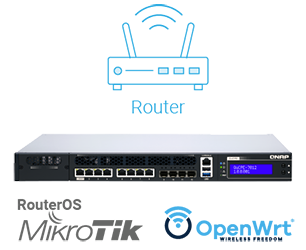 Virtual Router
The QuCPE-3034 can be transformed into a security router by installing RouterOS or OpenWrt. Create site-to-site VPN tunnels between HQ and branch offices while securing enterprise network data transmission.
---
Notes
QuCPE QNE Network allocates the full capacity of the 2.5-inch drives to be an Application Volume. VM, Container and vDisk data is stored in the Application Volume by default. If two identical 2.5-inch drives are installed in the QuCPE-3034, they will be configured as RAID 1 by default in QNE Network Edition. All the storage management features in the QTS OS (such as creating storage pools for file storage and Snapshots) are not supported by QuCPE QNE Network Edition.
Hardware Specifications:
| | QuCPE-3034-C3758R-16G |
| --- | --- |
| CPU | Intel® Atom® C3758R 8-core 2.4 GHz processor |
| System Memory | 16GB DDR4 2400MHz Non-ECC UDIMM(2 x 8 GB) |
| Maximum Memory | 128GB (2x64GB) |
| Memory Slot | 2 x 288pin DDR4-2400 slots |
| Total number of built-in and Pre-configured Ports | 12 |
| 10GbE SFP+ | 4 |
| 2.5GbE (RJ45) | 8 |
| Console Port (RJ45) | 1 |
| Form Factor | Desktop |
| Fan | 2 x 4cm Smart Fan |
| M.2 SSD Slots | 2 x M.2 2280 NVMe |
| USB 2.0 port | 1 Type-A |
| USB 3.2 Gen 1 port | 1 Type-A |
| Power | DC in, 60w |
| Intel QAT support | |
| SR-IOV supports | |
| Intel DPDK support | |
| Dimension W x D x H (mm) | 285 x 237 x 46 mm |
Note: Use only QNAP memory modules to maintain system performance and stability. For NAS devices with more than one memory slot, use QNAP modules with identical specifications.
Warning: Using unsupported modules may degrade performance, cause errors, or prevent the operating system from starting.
The terms HDMI, HDMI High-Definition Multimedia Interface, HDMI trade dress and the HDMI Logos are trademarks or registered trademarks of HDMI Licensing Administrator, Inc.
Product images are for illustrative purposes only and may differ from the actual product. Due to differences in monitors, colors of products may also appear different to those shown on the site.
Designs and specifications are subject to change without notice.
Pricing Notes:
Pricing and product availability subject to change without notice.
QNAP Products
QNAP Routers
QNAP Desktop 12 Port uCPE QuCPE-3034-C3758R-16G-US
Intel Atom C3758R 8C 2.4GHz Processor, 16GB DDR4 RAM (2 x 288pin DDR4-2400 slots Max 128GB), 2 x M.2 2280 NVMe slots, 4*10GbE SFP+, 8*2.5GbE Ports, 1 USB 3.2 Gen 1 Ports, 1 USB 2.0 Port
#QuCPE-3034-C3758R-16G-US
Our Price: $1,299.00