QNAP Features: Mobile Access

Mobile apps make accessing a Turbo NAS via mobile devices a snap

iOS and Android™ mobile apps make accessing a Turbo NAS via mobile devices a snap.
Qfile:
Ever wanted to browse and manage files stored on your Turbo NAS with your iOS mobile device? The free Qfile app is right for you.
Access files
Access files on the Turbo NAS anytime, anywhere.

Easy sharing
Create a download link for files to share and send via email or SMS, or simply email the file as an attachment.

Offline file reading
Easily download files from the Turbo NAS to your mobile devices for offline reading.

Upload files or photos
Upload your photos and documents directly from mobile devices to the Turbo NAS.

Easy management
Move, copy, rename or delete files on the Turbo NAS, all via your mobile device. No computer required.

Support device
iOS series: iPhone, iPod (iOS version 4.0+)

iPhone/iPod


Android™ series: Android OS 2.3.4+

Android

Qmanager:
Ever wanted to monitor and manage your Turbo NAS with your iOS or Android™ mobile device? The Qmanager app makes it easy.
Monitor system status
Monitor your system information, such as CPU usage, memory usage, system event info, online users, etc.

Manage download/backup tasks
Check the Download Station or backup task info. You can also pause or run the download or backup tasks remotely.

Shutdown/restart remotely
Restart or shutdown your Turbo NAS remotely.

Manage system services
Easily turn on/off application services of the Turbo NAS via Qmanager. It only takes one click!

Monitor connection status
Check connection status or logged in users remotely, to prevent invasion.

Identify the NAS
Use "Find My NAS" to turn on the NAS "Beep" sound to easily identify its location.

Support device
iOS series: iPhone, iPod (iOS version 4.0+)

iPhone/iPod


Android series: Android OS 2.3.4+

Android

Qmobile:
Qmobile enables you to use your handheld devices, such as iPhone, iPod Touch, iPad, and Android™ phones, to stream music, photos, and videos from your Turbo NAS and play the files directly on your devices anywhere. It is like having a media center in your pocket!
Enjoy music
Stream terabytes of music stored in the Turbo NAS directly to your mobile devices.

Browse photo
Browse your photo gallery whenever and wherever you want.

Control remotely
Remotely control the Music Station local playback. No need to turn on your PC and connect to your Turbo NAS to control the music.

Watch videos
Watch your video collection on the go.

Upload photo
Instantly upload photos to the Turbo NAS from mobile devices for backup and sharing.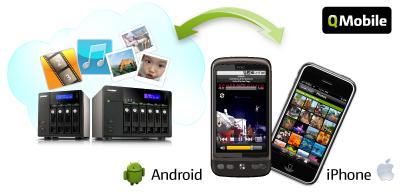 Support device
iOS series: iPhone, iPod, iPad (iOS version 4.0+)

iPhone/iPod/iPad


Android series: Android OS 2.3.4+

Android