Cloud Storage Backup

Discover a brilliant, accelerated, and effortless way to meet what you need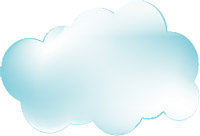 In addition to USB/eSATA external storage devices or remote servers, QNAP Turbo NAS also supports various third party cloud storage services as the backup destination, securing critical data with an additional off-site copy. Choosing a proper third party cloud storage backup service protects the QNAP NAS against unexpected data loss and allows convenient disaster recovery.
Scheduled and real-time backup options are provided to meet administration's needs. Data can be easily restored in the event of local file loss or corruption. This greatly ensures data availability.
Amazon S3:
Amazon S3 (Simple Storage Service) is an online storage web service provided by Amazon Web Services. QNAP Turbo NAS supports Amazon S3 to allow users to back up the data from the NAS to Amazon S3, or download the data from Amazon S3 to the NAS anytime. Users can also create scheduled replication jobs for daily, weekly, or monthly backup.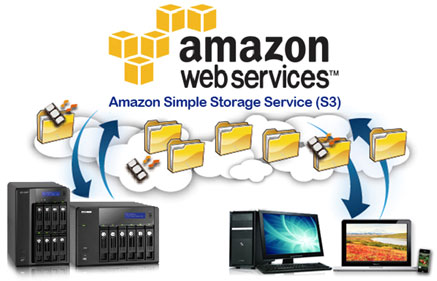 Additional information:
Application Notes: How to Use Amazon S3 with QNAP Turbo NAS
Amazon S3 website: http://aws.amazon.com/s3/
ElephantDrive:
ElephantDrive is a service which allows users to perform scheduled and real-time data backup from the QNAP Turbo NAS to ElephantDrive cloud storage. Users can manage the backup tasks and restore the data to the NAS via the web-based management interface (http://www.elephantdrive.com/qnap/).
Key Features:
Back up an unlimited number of desktops or servers
Access your data from any computer with Internet access
Protect your data with AES 256-bit military grade encryption
Share your files with friends, family, coworkers or clients
Rest assured your data is safely stored in multiple geographic locations
Schedule your backups to occur weekly daily, hourly or continuously
ElephantDrive supports file sharing and versioning. Users can share data securely with anyone and access the files from anywhere over the Internet. Check out the ElephantDrive tutorials to learn how to share files, manage file versioning and archiving preferences, and access the files remotely!
ElephantDrive tutorial: https://vault.elephantdrive.com/help/tutorials/default.aspx
Application Notes: Continuous Data Protection on QNAP NAS with ElephantDrive
Register for free: http://www.elephantdrive.com/qnap/
Symform:
Symform is a revolutionary and secure cloud backup service. The Symform Cloud Storage Network protects users' files, business, and users' bottom line.  When users contribute to our network, Symform provide them unlimited cloud storage and backup for free. Unlike traditional data center storage, Symform's network encrypts, shreds, and globally distributes data. This disruptive technology provides more secure, more cost-effective, and higher-performing cloud backup than any alternative today. Customers join the Symform network by contributing excess local drive space and, in exchange, receive free cloud backup. With Symform, users can easily backup critical data from the QNAP Turbo NAS to the cloud and achieve the backup disaster recovery they need to keep their business running. (www.symform.com/qnap)
Cost-effective: Unlimited storage for free when users contribute to the cloud.
Fast: Parallel connections for faster seeding and restore.
Secure: patented RAID 96 data protection and AES 256 grade encryption - and data is encrypted before it leaves your site.
Easy Data Sync: Securely synchronize all users' critical data directly from the QNAP device to the Symform Cloud for offsite backup and Synchronize critical data across multiple QNAP Turbo NAS or other devices via the Symform cloud for anywhere access and instant restore.
More Reliable: 99.9% uptime, SSAE 16 compliance.
Patented, proven technology.
Start now and get 10GB FREE cloud storage or contribute to the Symform Network and get all your cloud storage for FREE.   Go to the Turbo NAS web administration page, click on Cloud Backup and select Symform Tab to register and get started.
Read the Symform QNAP Datasheet: http://www.symform.com/wp-content/uploads/2012/03/Symform-Partner-Data-Sheet-QNAP-3.12.pdf
How Symform works: http://www.symform.com/resilient-storage-architecture.aspx
Application Notes: www.symform.com/docs/Symform-QNAP-Installatio n-Guide.pdf