QNAP QHora-322

Next-Generation three-port 10GbE SD-WAN Router, providing a secure networking experience for NAS and IoT environments
QNAP Products
QNAP Routers
QHora-322: 2.5/10G high speed QuWAN VPN router. 3 x 10GBase-T, 6 x 2.5GbE Port
#QHora-322-US
Our Price: $499.00
Click here to jump to more pricing!
Package Content
QNAP QHora-322 Router
Ethernet cable
Power cord
AC Adapter
Quick Installation Guide
Overview:
The QHora-322 enables high-speed connection with 3 x 10GbE and 6 x 2.5GbE ports, while also providing enterprise-grade Mesh VPN networking. You can achieve multi-site LAN development via the cloud through QuWAN Orchestrator, with full software-controlled routing to build a next-generation network. It is strongly recommended to pair QHora-322 with a QNAP NAS for businesses to perform secure remote backup: By using the Hybrid Backup Sync through QuWAN, you can transfer files and snapshot files between multiple NAS through a secure encrypted network. For enhanced security, you can also connect your NAS (QNAP or otherwise) directly behind the QHora-322 to prevent attacks.
Highly flexible software routing configuration
Each network port and network segment are independent by default. Flexibly set network segments based on your organization or environment needs.
WAN/LAN Deployment
The QHora-322 has six 2.5GbE ports for flexible WAN/LAN deployment.
Mesh VPN
QuWAN SD-WAN technology automatically establishes a secure mesh VPN with QNAP devices at multiple sites.
Enterprise-grade VPN
Enable up to 700 concurrent VPN connections with an optimal integrated hardware and software solution.
Intuitive management interface
The QHora-322 uses the QuRouter OS, which features a user-friendly web-based UI to assist in everyday network management tasks.
Simple initialization settings
Compared with conventional routers with complicated IP settings, the QHora-322 supports Automatic Device Search in WAN/LAN.
Features:
Ultimate wired networking performance
The QHora-322 provides six 2.5GbE ports (compatible with 2.5G/ 1G/ 100M) for high-speed wired networking performance.
Note: In default mode, the first port from the left is WAN and each network port is independent. To set the ports to the same network segment, configure them using the QuRouter OS.
---
WAN/LAN flexible deployment
As a next-generation router, every port of the QHora-322 gives you flexible high-speed LAN/WAN deployment.
---
Wired network deployment for every scenario
IoT Direct-to-device connectivity
Directly connect individual IoT devices to the QHora-322 through independent network segments, so that different devices can operate smoothly together.

Note: Each network port and network segment are independent by default.
High-speed LAN
Set multiple LAN ports in one LAN using the QuRouter OS. A high-speed Intranet is ideal for large file transfer or communication between workstations.
VLAN Network Slicing
Use the VLAN function to segment domains for different applications, so that multiple applications can connect to the network through a single network port.
Auto Mesh Multi-site VPN
Enable QuWAN SD-WAN at multi-site QHora-322, multi-points will automatically form a Mesh VPN network. providing a simpler and faster multi-point secure connection solution.
---
Secure access to your NAS
To secure your remote access and prevent potential attacks, it is highly recommended to connect the QHora-322 in front of your NAS device. The NAT (Network Address Translation) enables private network security by hiding the actual IP address used in the private network from users outside the firewall.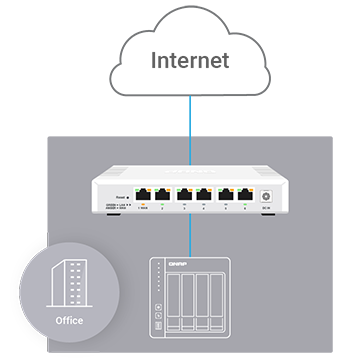 ---
Mesh VPN + HBS = Easy and secure remote NAS backup
Through the QuWAN cloud platform, the QHora-322 can automatically establish a mesh VPN network with other QNAP devices to quickly deploy a mesh VPN environment. To effectively complete remote backup tasks for your organization, use the Hybrid Backup Sync (HBS) app in QNAP NAS to easily back up or sync NAS data to another NAS, remote server, or the cloud. Build your 3-2-1 backup up strategy and prevent data loss with HBS now!
---
A modern design for every usage environment
The QHora-322 has near-silent operation. Even when connected to multiple devices, it maintains dependable performance for office and home use. With a modern appearance and highly effective cooling, the QHora-322 fits perfectly alongside other devices in modern digital homes and offices.
---
QHora – Best-in-class network security solution
Featuring cutting-edge network security techniques, the QHora offers an all-in-one solution for building a secure next-generation network.

Secure local NAS devices
QHora supports L3 firewall, NAT, and Port Forwarding to improve LAN Security.

Secure remote devices
QHora at different sites enables interconnected Mesh VPN topology via SD-WAN for secure access to your NAS.

Secure end devices
Mobile devices can securely access NAS data via the QVPN service (supports OpenVPN, L2TP, and QNAP's proprietary QBelt VPN protocols) offered by QHora.

Secure NAS applications
Cross-site NAS data transfers, such as file backup, synchronization and sharing, are protected within the SD-WAN network.
---
QuRouter OS: User-Friendly Router Management
The QHora-322 uses the QuRouter OS, providing a user-friendly web-based GUI, at-a-glance dashboard and port indicators to assist in everyday network management tasks. With the QuRouter OS, not only can users efficiently manage all connected wired and wireless devices in real-time, but they can also configure the firewall, VPN, security, and QuWAN advanced functions.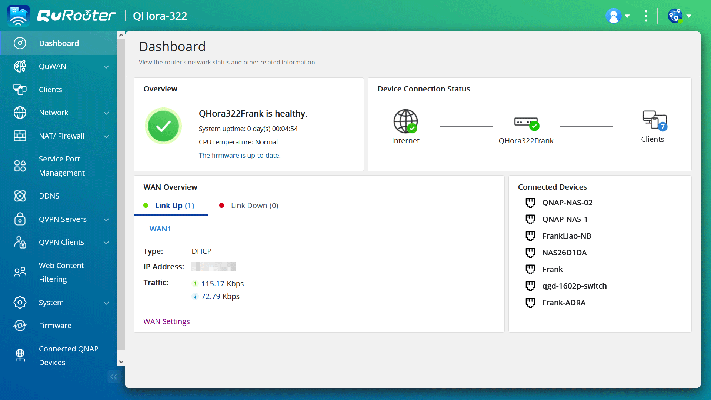 ---
VPN setup has never been easier
The traditional multi-site VPN setup is extremely time-consuming and requires subsequent maintenance work. The QHora-322 is equipped with QNAP's next-generation QuWAN SD-WAN technology to greatly simplify installation: setting up a VPN no longer requires additional fixed IP application as local and remote configuration information can be automatically exchanged through the Cloud Orchestrator. In this case, IT professionals can complete VPN setup with minimal user intervention.
1
Use the PPPoE connection provided by your ISP to set up WAN. After setting the PPPoE connection, you can obtain a public IP – instead of applying for a dedicated line or fixed IP.
2
Open QuWAN settings and sign in to your QNAP Account (open a QNAP Account).
3
Select the organization/region/site where the device will be added (you can add all devices to the preset organization/region/site by default).
4
Access the remote site machine to set the remote site IP (it cannot be identical to the local site IP; the default IP segment on the LAN side is 192.168.100.1, you can change the remote default IP to 192.168.200.1 segment).
5
Repeat steps 1-3 at the remote site.

Complete the VPN setup. You can log in and check the VPN status at https://quwan.qnap.com
---
Centralized QuWAN Orchestrator for efficient Cloud management
QuWAN Orchestrator is a powerful and convenient centralized network management cloud platform, enabling IT staff to remotely deploy and manage edge network devices. Its Zero Touch Provisioning (ZTP) allows IT staff to easily build a large-scale WAN remotely and without the assistance of personnel at each location. IT staff can also monitor bandwidth, set parameters, and analyze network traffic on a single platform – perfect for multi-site, multinational network management and maintenance. Connected to the QHora-322 via wired or wireless connections, client devices can easily access the SD-WAN network.
| QuWAN Orchestrator | QuWAN Agent | QVPN Client |
| --- | --- | --- |
| Go to quwan.qnap.com to view the status of connected devices via the Dashboard. You can apply batch settings to all devices, set push notifications, and perform remote troubleshooting. | Install QuWAN Agent on your QNAP devices and configure the setting parameters to be connected to each other in a Mesh VPN (Topology view in QuWAN Orchestrator). | Install QVPN on mobile devices and computers for easy connection to the QHora-322 for accessing multi-site VPN resources. |
---
Deploy a multi-site VPN with the subscription-free QuWAN solution
QuWAN can be installed on QNAP NAS, QGD switches and QuCPE servers*. When co-working with the QVPN App, remote workers can be easily connected to SSL VPN via their computer or mobile device. Whether scaling up to accommodate worldwide offices or simply to different departments in the same building, devices in different locations are flexibly segmented to be connected with each other in a micro-segmented network.
QuWAN Orchestrator
Manage the network using a centralized management cloud platform.
QuCPE Server
The high-performance core VPN Server at the HQ.
NAS
Add branch offices to the VPN Infrastructure with your existing NAS.
QGD Switch
Fulfill surveillance and VoIP applications at small business sites (such as stores).


QHora Router
Provides easy-to-use VPN functions for remote workers.
QVPN
Mobile users can connect to SSL VPN using their PCs, laptops or mobile phones.
---
Enhanced Security
The QHora-322 offers many comprehensive security features.
| | |
| --- | --- |
| QuWAN Identity Verification | Log in to the QuWAN Orchestrator by adding your QNAP ID to the SD-WAN Organization in the Account Center. |
| Local Device Identity Verification | Use the Local Account to log in to a local device. |
| QuWAN Network Management | Form a secure remote VPN connection with multi-site devices through IPSec VPN. |
| QHora Network Management | Supports L3 firewall, NAT, and Port Forwarding to improve LAN Security. |
| QVPN Access Authorization | Remote workers can be easily connected to SSL VPN via their computer or mobile devices |
| Edge Device Application Management | With the L7 Firewall and DPI (Deep Packet Inspection) technology, users can set multiple segments for different blacklist applications; Parental control function limits network usage time and browsing guidelines for kids. |
---
QVPN: Secure communication with remote devices
The QHora-322 incorporates both the VPN server and client capabilities of the QVPN Service – allowing you to create a VPN client that connects to a remote server or third-party provider to access content or services. It also allows the QHora-322 to be used as a VPN server for connecting to end devices with OpenVPN, L2TP/IPSec, and QNAP's proprietary QBelt VPN protocols.*
Note:
The QVPN Client, QVPN Server and QuWAN service cannot be enabled at the same time. The QVPN Server and QuWAN service can only be enabled at the same time when using Qbelt or OpenVPN, but are disabled when using L2TP.
QVPN Service in QHora-322 currently supports OpenVPN connections with the QNAP devices configured OpenVPN server/client.
---
WireGuard® - easier VPN tunnels for remote workers
QHora-322 now supports WireGuard®*, providing faster and stable VPN connections. With a user-friendly interface, non-IT professional remote workers can easily set up VPN tunnels to access office-based QNAP devices with simplified connection methods.
---
Watch global videos without limits
Unlock the Internet with QHora-322's QVPN Client service! By setting the OpenVPN protocol in QVPN Client to direct network to a cross-region VPN Server, QHora-322 can be connected to Cloud VPN services (such as NordVPN, ExpressVPN, Surfshark), allowing you to bypass geoblocking and watch regional video streams or news.
Note:
QVPN Client, QVPN Server and QuWAN service cannot be enabled at the same time; QVPN Server and QuWAN service can be enabled at the same time without using L2TP protocol.
For the services that can be provided by third-party VPNs, please refer to the instructions on the official websites of individual VPN service providers.
Hardware Specifications:
QHora-322
Number of Ethernet Ports
9
10GbE BASE-T (RJ45)
3 x 10GBASE-T (10G/5G/2.5G/1G/100M)
2.5GbE (RJ45)
6
CPU
Marvell CN9130
Quad Core Armv8 Cortex-A72
Memory
4GB DDR4
Flash Memory
4MB SPI NOR Flash
4GB eMMC
USB 3.2 Gen 1 port
1



Only for connecting USB dongle storage for FTP service on the router

Button
Reset
Power
12V DC
Power consumption
36W
Dimensions
226 x 140 x 44.4mm
Weight
1.08Kgkg
Packing weight
1.61kg
Operating Temperature
0°C ~ +40°C
Operating Humidity
5% to 95% non-condensing
Certifications
CE / FCC / VCCI / BSMI / RCM / CCC / UKCA
QNAP SD-WAN solution, QuWAN
Pricing Notes:
Pricing and product availability subject to change without notice.
QNAP Products
QNAP Routers
QHora-322: 2.5/10G high speed QuWAN VPN router. 3 x 10GBase-T, 6 x 2.5GbE Port
#QHora-322-US
Our Price: $499.00
Other Accessories
36W external power adaptor for 1 Bay NAS
TS-119P+, TS-119, TS-110, TS-112P, TS-131,TS-131P, TAS-168, TS-128, TS-131K, TS-130
#SP-1BAY-ADAPTOR
Our Price: $65.00