QNAP QSW-1108-8T

Instantly upgrade your network to 2.5GbE connectivity
QNAP Products
QNAP Switches
QNAP Desktop QSW-1108-8T, Unmanaged switch, 8 port 2.5Gbps auto negotiation (2.5G/1G/100M) RJ45 port, Realtek RTL8371
Unmanaged Switch, 8 port 2.5Gbps auto negotiation (2.5G/1G/100M)
#QSW-1108-8T-US
Our Price: $169.00
Click here to jump to more pricing!
Package Content
QNAP QSW-1108-8T Switch
Power supply
Bracket screws
Anchors
Foot pads
Quick Installation Guide
Overview:
Unleash the potential of your 2.5GbE NAS and computers with a Multi-Gigabit 2.5GbE switch! With eight 2.5GbE ports, the QNAP QSW-1108-8T switch instantly upgrades your network to take advantage of 2.5GbE-enabled devices and NAS without requiring any new network cables. Featuring a near-silent fanless design and plug-and-play set up, the QSW-1108-8T provides network loop detection and blocking functions, making it easy for you to create an affordable high-speed network environment for your home or business.
Easily upgrade to a high-speed network environment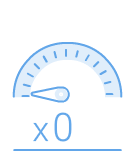 2.5GbE Ethernet
2.5GbE Ethernet offers 2.5 times higher transmission speed than standard Gigabit Ethernet.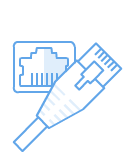 Easy upgrade
Supports three speeds (2.5G / 1G / 100M) and provides higher transmission speeds with existing Cat 5e cables.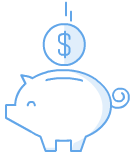 Optimized cost
2.5GbE balances cost and performance, allowing you to see immediate benefits without a huge investment .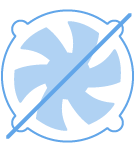 Silent operation
The unique fanless design with ventilated construction provides near-silent operation.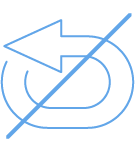 Entry-level solution
Automatic loop detection and blocking to ensure continuous network operation.
Upgrade your network speed at an affordable price
With more and more network devices supporting 2.5GbE speeds, traditional Gigabit Switches may be holding back your network performance. The QSW-1108-8T is a cost-optimized high-speed network switch that allows you to take advantage of the growing number of 2.5GbE devices by using existing CAT 5e cables and without stretching your budget.
Features:
Up to 2.5 times faster
The QSW-1108-8T has eight 2.5GbE ports that support existing Ethernet devices and are ready for next-generation 2.5GbE devices. Whether you are upgrading your network for business or personal use, the QSW-1108-8T provides a solid foundation for enabling faster and smoother productivity and entertainment.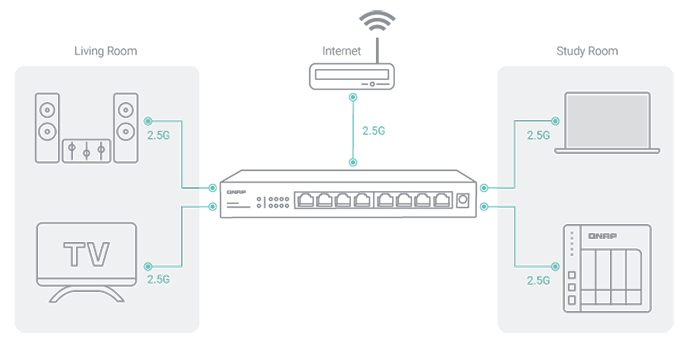 ---
Instantly build a plug-and-play high-speed network
No complex settings are required to use the QSW-1108-8T - simply connect your devices with existing Cat 5e cables and it's ready to use. The QSW-1108-8T supports auto-negotiation that optimizes transfer speeds (2.5G/1G/100M) and performance for each connected device.
---
Future-proof your network environment
QNAP offers comprehensive, budget-friendly storage and networking solutions that provide an array of connectivity possibilities. Easily and flexibly upgrade your workplace or home network now to handle bandwidth-hungry applications.
A switch that supports 2.5GbE+
QNAP 2.5GbE switches support 2.5G/1G/100M and allow connecting multiple workstations and devices for high-speed collaboration in device-dense environments.
A 2.5GbE QNAP NAS
Many QNAP NAS features 2.5GbE connectivity, and with Port Trunking you can combine multiple ports for greater bandwidth potential.

Note: Managed Switch series support Port Trunking
Upgrade computers and servers
Servers and desktop computers can install PCIe-based QNAP network expansion cards that support 10G/5G/2.5G/1G/100M Multi-Gig.
Add a 5GbE port to laptops
The handy QNAP USB 3.2 Gen 1 to 5GbE adapter allows laptops and upgrade-limited computers to connect to 5G/2.5G/1G/100M networks.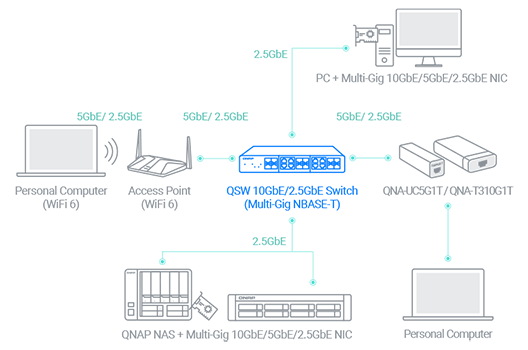 ---
Loop detection and blocking
The QSW-1108-8T features network loop detection. If a network loop is detected, the QSW-1108-8T automatically locks the looped ports to ensure the network environment quickly resumes normal operation.
---
Cool and quiet operation
The QSW-1108-8T features a fanless design for near-silent operation. The unique ventilated construction assists in cooling while maintaining high performance.
Hardware Specifications:
QSW-1108-8T
Management Type
Unmanaged
Number of Ports
8
2.5GbE (RJ45)
8
Power Supply Description
Adapter
Max. Power Consumption
18W
Input Power Type
DC
Input Voltage Range
12V/1.5A
MAC Address Table
16K
Total Non-Blocking Throughput
20Gbps
Switching Capacity
40Gbps
Energy Efficient Ethernet (IEEE 802.3az complaint)
Fanless
Supported Standards
IEEE 802.3 Ethernet
IEEE 802.3u 100BASE-T
IEEE 802.3ab 1000BASE-T
IEEE 802.3bz 2.5GBase-T
IEEE 802.3x Full-Duplex Flow Control
Form Factor
Desktop
LED Indicators
Per Port: Speed/Link/Activity
Loop LED: Loop
Per System: Power/Status
Dimensions (HxWxD)
27 x 240 x 105 mm
Weight (Net)
0.639 kg
Weight (Gross)
0.99 kg
Operating Temperature
0˚C to 40°C (32°F to 104°F)
Relative Humidity
5%–95% (non-condensing)
Certifications
FCC, CE, BSMI, VCCI, LVD,CCC,KCC, UKCA
Electromagnetic Compliance
CLASS B
Jumbo Frames
12K
Warranty
2 Years
Note: Use only QNAP memory modules to maintain system performance and stability. For NAS devices with more than one memory slot, use QNAP modules with identical specifications.
Warning: Using unsupported modules may degrade performance, cause errors, or prevent the operating system from starting.
* Sound Level Test
Environment: Refer to ISO 7779; Maximum HDD loaded; Bystander Position; Average data from 1 meter in front of operating NAS.
Product images are for illustrative purposes only and may differ from the actual product. Due to differences in monitors, colors of products may also appear different to those shown on the site.
Designs and specifications are subject to change without notice.
Pricing Notes:
Pricing and product availability subject to change without notice.
QNAP Products
QNAP Switches
QNAP Desktop QSW-1108-8T, Unmanaged switch, 8 port 2.5Gbps auto negotiation (2.5G/1G/100M) RJ45 port, Realtek RTL8371
Unmanaged Switch, 8 port 2.5Gbps auto negotiation (2.5G/1G/100M)
#QSW-1108-8T-US
Our Price: $169.00