QNAP TBS-464

Compact, portable, versatile: Quad-core 4-bay M.2 NVMe SSD NASbook
QNAP Products
SMB Products
QNAP TBS-464 4-Drive NASbook. Intel 4-core Process, burst up to 2.9GHz, 8GB DDR RAM On-Board (Not Expandable), 4 x M.2 2280 NVMe SSD slots, 2.5GbE and 2 x HDMI
Intel Celeron N5105/N5095 quad-core, 4GB DDR4 RAM (not expandable), 4 x M.2 2280 NVMe SSD Slots, 2 x 2.5GbE, 2 x HDMI (upto 2.0), 2 x USB 3.2 Gen, 3 x USB 2.0, AES-NI encryption and Hardware transcoding
#TBS-464-8G-US
Our Price: $599.00
Click here to jump to more pricing!
Overview:
Package Content
QNAP TBS-464 Storage
1 x Ethernet cable
1 x Power cords
AC Adapter
4 x M.2 SSD Heatsink
12 x M.2 SSD Thermal Pads
Quick Installation Guide
Built to fit in everywhere, the TBS-464 M.2 NVMe SSD NASbook is ideal for modern offices, workgroups, meetings and multimedia. Powered by an Intel Celeron N5105/ N5095 quad-core processor (burst up to 2.9 GHz), the TBS-464 has two 2.5GbE ports and USB 3.2 Gen 1 ports for accelerating file transfer and versatile applications. The TBS-464 provides M.2 NVMe SSD slots and supports HybridMount for creating hybrid cloud storage environments, has up to two 4K HDMI 2.0 outputs, media transcoding capabilities, and includes the KoiMeeter app for enabling video conferencing and wireless presentations for small businesses and remote workers.

Both 2.5GbE ports are backwards compatible with 1GbE/ 100MbE/ 10MbE speeds. Up to 5 Gbps transfer speeds can be achieved by using port trunking.

Use up to four M.2 PCIe NVMe SSDs (sold separately) for ultimate storage performance.

Two USB 3.2 Gen 1 ports for faster data transfer.

Up to two HDMI 2.0 ports support 4K @60Hz output. Real-time transcoding is also supported, and the built-in IR receiver can be used by the RM-IR004 remote control for a more convenient NAS experience.

Snapshots fully record the system status and data, allowing you to protect files and data from accidental deletion and malware attacks.

Supports HybridMount cloud storage gateways for low-latency access to cloud data.
Features:
Two 2.5GbE Ports with USB 3.2 Gen1 Connectivity for Greater Performance
The TBS-464 is powered by an Intel Celeron N5105 / N5095 quad-core processor with 8 GB DDR4 memory, and has two USB 3.2 Gen 1 ports for faster data transfer. With two 2.5GbE ports the TBS-464 provides exceptional file transfer performance, and with Port Trunking can achieve speeds of up to 5 Gbps. The integrated Intel® AES-NI encryption engine also helps protect confidential data without impacting system performance.
---
Build a High-Speed 2.5GbE Network Environment
QNAP offers comprehensive, budget-friendly storage and networking solutions that provide an array of connectivity possibilities. Easily and flexibly upgrade your workplace or home network now to handle bandwidth-hungry applications.
A fast 2.5GbE NAS
A QNAP NAS features one or more 2.5GbE ports, and Port Trunking allows you to combine multiple ports for greater bandwidth potential.
Upgrade computers and servers
Servers and desktops can install PCIe-based QNAP network cards that support 10G/5G/2.5G/1G/100M Multi-Gig.
Add a 5GbE port to laptops
Laptops and upgrade-limited computers can use QNAP's portable USB 3.2 Gen 1 to 5GbE adapter that allows you to connect to 5G/2.5G/1G/100M networks via USB.
A switch that supports 2.5GbE+
QNAP's 10GbE/NBASE-T switches support 10G/5G/2.5G/1G/100M and allow connecting multiple workstations and devices for high-speed collaboration in device-dense environments.QNAP's 10GbE/NBASE-T switches support 10G/5G/2.5G/1G/100M and allow connecting multiple workstations and devices for high-speed collaboration in device-dense environments.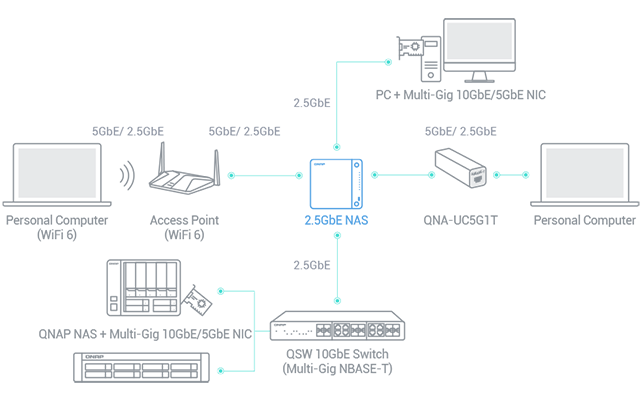 ---
Handy, quiet and compact. The stylish tech gadget for everyday use.
Designed around QNAP's unique "NASbook" concept, the TBS-464 is a thin, B5-sized device that measures just 1.18 x 9.06 x 6.50 inch, weighs just 740 g, so it easily fits any working environment. Have it within your office, carry it around, and take it into meetings to enable quick file sharing, collaboration and presentations. Compared with a conventional NAS, the TBS-464's usage of M.2 NVMe SSDs (sold separately) for storage allows it to be significantly smaller and quieter while at the same time providing ultra-high performance and mobility. The M.2 SSDs are also easily accessible for installation and maintenance by removing the bottom rubber pads and screws. Alongside laptops and mobile phones, the TBS-464 NASbook is an essential device for modern offices and workgroups.
---
Faster image identification with integrated Intel® OpenVINO™ AI engine.
With integrated Intel® OpenVINO™ AI computing resources, the TBS-464 accelerates AI image recognition performance without impacting other applications or services. QNAP AI Core primarily works with the QuMagie application.
---
QTS 5. Fast, smooth, and easy-to-use!
The TBS-464 comes with the QTS 5 operating system as standard, providing a next-generation usage experience with an updated system kernel and optimized user interface.
Brighter. Smoother. You'll like it.
When navigating QTS 5, you will notice a finer attention to detail for a superior browsing experience. Enjoy a smoother NAS experience, comfortable visual design, and find your favorite apps quicker.
Get started with the notice board
When performing first-time installation, the notice board guides you through the setup process. Simply follow the step-by-step instructions for a quick and easy setup.
Smooth and reactive user interface
Whether clicking buttons, switching between apps, expanding/collapsing windows – every action is much smoother. The search bar in the main menu also assists in quickly finding desired apps.
---
Ultimate multimedia experience with 4K HDMI, real-time transcoding and streaming
The TBS-464 features up to two HDMI 2.0 outputs that supports 4K (4096 x 2160) @60Hz display. Videos stored on the TBS-464 can be transcoded to universal file formats that can be smoothly played the same content on both displays. Media files on the TBS-464 can be enjoyed on mobiles and other devices using DLNA®, Chromecast™, and Plex® Media Server. The built-in IR receiver can be used with QNAP RM-IR004 remote control and can be configured using QButton to customize the actions of individual buttons, providing a hand-on multimedia experience.
*The TBS-464's hardware provides hardware decoding, encoding and transcoding capabilities. However, playback quality may vary due to factors including playback software, file formats, system usage, and available bandwidth.
---
Plex® Media Server
By installing Plex® Media Server from the QTS App Center, you can stream media files stored on the TBS-464 to mobiles and media streaming devices (including DLNA®, Roku®, Amazon Fire TV® and Google Chromecast™).
Note: Plex Pass is required for Plex Media Server hardware transcoding.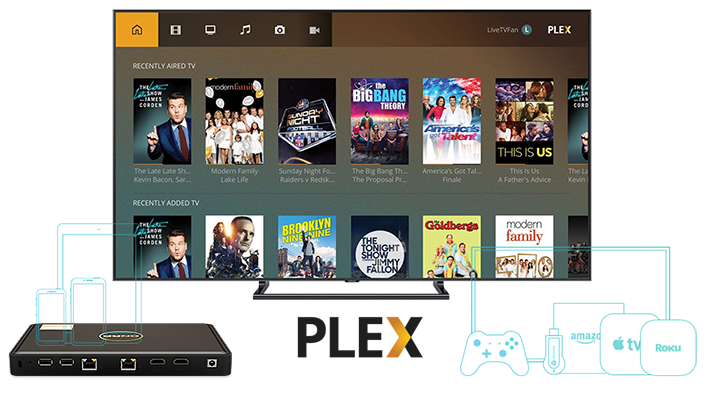 ---
Video Conferencing System and Wireless Presentation for Enterprise
The TBS-464 can be used with QNAP KoiMeeter to build a high-quality video conferencing system. With 4K output you can see every detail in screen shares, web browsers, and online meetings. Important files can be shared using the built-in chat room and video calls and messages can be recorded to the TBS-464 for future playback or archiving.
---
Comprehensive backup and disaster recovery solution
The TBS-464 supports various apps that cover all your backup needs. Practice safe IT habits by regularly backing up files and device content, allowing them to be easily restored when needed.

Remote backup for NAS
Hybrid Backup Sync makes it easy to back up data from a TBS-464 to another QNAP NAS or remote server to fulfill your 3-2-1 backup strategy.

SaaS backup
Safeguard enterprise cloud data by backing up/syncing files, emails, calendars, and contacts from Google™ Workspace and Microsoft® Office 365® to the NAS.
Note: Minimum memory requirements are 2 GB available and 4 GB installed.

Remote backup for NAS
Hybrid Backup Sync supports mainstream cloud storage for NAS data backup. For backup to object cloud storage, VJBOD Cloud is especially useful to reduce bandwidth usage and backup time.
---
Multi-version snapshots mitigate ransomware threats
The TBS-464 supports block-based snapshots that record the state of the system at any time. It helps protect data, which can be restored back to a specific point of time, greatly helping in mitigating the threat of ransomware.
Volume and LUN snapshots

Take snapshots in seconds and revert the entire volume/LUN back to a specific point in time to prevent loss of important data.




Instantly restore snapshots

Snapshot content can be quickly restored to a local NAS, or restored on a folder/file basis to a local/remote NAS or cloud storage. You can also conveniently view and restore snapshots from the client side.




Back up snapshots

Multiply data protection by backing up snapshot files! Replicate volume/LUN snapshots in the TBS-464 to a remote NAS (Snapshot Replica) by copying only the changes made. This helps save time & bandwidth, and can be run manually or on a scheduled basis.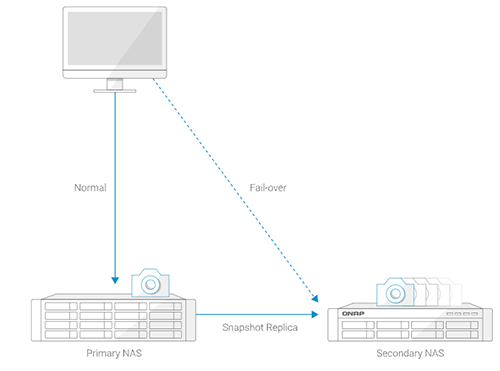 ---
Connect to a TV or Monitor with HDMI
With HDMI output, the TBS-464 allows you to directly enjoy multimedia content, use web browsers, manage your NAS, or watch recorded surveillance footage or live feeds on your NAS.

Use your NAS as a PC
Simply connect a keyboard, mouse, and HDMI display to the TBS-464 to use it as a PC - directly accessing your NAS files and services, and browsing the Internet with Google Chrome™ and Firefox® are just that easy.

Monitor surveillance videos
Use the QVR Pro Client on HybridDesk Station to monitor live views and play recorded footage. You can also switch between different channels to view from different angles for greater coverage.
Ultimate visual experience with 4K HDMI output
The TBS-464 has an HDMI 2.0 port which supports 4K (4096 x 2160) 60Hz output.
---
Comprehensive security and privilege settings
The TBS-464 is loaded with flexible privilege settings and security measures. Besides IP blocking, 2-step verification, HTTPS connection, there are more apps that help ensure optimal NAS protection against threats like malware and hackers.

myQNAPcloud secures remote access
myQNAPcloud allows convenient connection to the TBS-464 through the Internet without any complex DDNS settings. To ensure your remote access service is secure, myQNAPcloud strengthens keys on SSL Certificates to 2048-bits.

QuFirewall protection
Supports IPv6, firewall access lists, and GeoIP filtering to restrict access based on geographical locations for higher NAS network security.

Security Counselor
A security portal for the TBS-464 to check for weaknesses and offer recommendations for enhancing NAS security. It also integrates anti-virus and anti-malware scanning software.
---
The best file storage and collaboration center
The TBS-464 integrates rich apps for storing, managing, synchronizing, searching, and archiving files. It supports SMB/CIFS, AFP, and NFS protocols for streamlined file sharing across Windows®, Mac®, and Linux®/UNIX®, and provides the smartest NAS solution for professionally managing your files.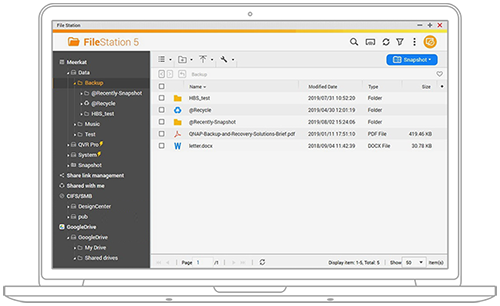 File Station
Manage, access, and share all the files in the TBS-464 and view snapshots files – all from your web browser. You can also easily mount remote NAS folders and cloud storage.
Qsync
Make any file uploaded to a TBS-464 available to linked devices, such as computers, laptops and mobile devices. You can sync shared folders and team folders for group file sharing to enhance the flexibility of team projects and collaboration.
Qsirch
QNAP's powerful, Google-like search tool helps you quickly find images, music, videos, documents, and emails by keywords, color, and more search conditions. It also supports Qfiling to perform one-time or automatic archival tasks based on your search criteria.
Qfiling
Automate your file organization ─ all you need to do is categorize files, set a schedule, and Qfiling will do the rest. Qfiling also enables smart recycling that instantly moves filtered files to the Recycle Bin.
---
Flexible and economical storage expansion
QNAP provides easy ways to expand your storage capacity. Here are several ways to expand your TBS-464 storage as needed to accommodate data and business growth.

Attach QNAP expansion enclosures
Connect expansion enclosures to the TBS-464, and manage NAS storage expansion with the user-friendly Storage & Snapshots Manager app.

Mount cloud storage or remote file servers
Mount cloud storage or remote file servers to expand the capacity of the TBS-464 while also centrally managing files on the NAS, cloud storage, and remote devices.
---
More productivity-boosting applications
The TBS-464 provides an App Center that includes feature-rich apps to expand your NAS potential!

QuMagie
An AI-powered photo management app, supporting automated photo categorization with AI Albums, iOS® Live Photo display, and powerful search tools for the ultimate photo management and sharing solution.

Notification Center
Consolidates all system events, alerts, and notifications for smooth and easy NAS management, keeping you always informed of your NAS status.

Qmiix
An Integration Platform as a Service (iPaaS) solution that enables you to connect apps and devices with QNAP NAS for automating daily tasks for greater productivity.

QmailAgent
Centralize multiple email accounts and protect your data by using secondary backup, making managing and backing up emails absolutely easy.

Browser Station
Remotely access protected data on the same LAN as the TBS-464 without going through complex VPN settings.
---
Extend hardware warranty up to 5 years
The TBS-464 is backed by a 2-year warranty at no additional cost. You can also purchase a warranty extension that extends your warranty coverage up to 5 years.
Hardware Specifications:
TBS-464-8G
CPU
Intel® Celeron® N5105/N5095 4-core/4-thread processor, burst up to 2.9 GHz
CPU Architecture
64-bit x86
Floating Point Unit
Encryption Engine
(AES-NI)
Hardware-accelerated Transcoding
System Memory
8 GB DDR4, not expandable
Maximum Memory
8 GB DDR4, not expandable
Flash Memory
4GB (Dual boot OS protection)
M.2 Slot
4 x M.2 2280 NVMe Gen3 x2 slots
The system is shipped without SSD.
SSD Cache Acceleration Support
2.5 Gigabit Ethernet Port (2.5G/1G/100M)
2 (also support 10M)
Jumbo Frame
Wake on LAN (WOL)
USB 2.0 port
3
USB 3.2 Gen 1 port
2
IR Sensor
(RM-IR004)
HDMI Output
2, HDMI (up to 2.0 resolution 3840 x 2160 @ 60Hz)
Form Factor
Set-top design
LED Indicators
SSD1-4
Buttons
Power, Reset, Copy
Dimensions (HxWxD)
30 × 230 × 165 mm
Weight (Net)
0.8 kg
Weight (Gross)
1.7 kg
Operating temperature
0 - 40 °C (32°F - 104°F)
Storage Temperature
-20 - 70°C (-4°F - 158°F)
Relative Humidity
5-95% RH non-condensing, wet bulb: 27˚C (80.6˚F)
Power Supply Unit
External Power Adapter, 65W, 100-240V
Power Consumption: HDD Sleep Mode
18 W
Power Consumption: Operating Mode, Typical
28 W
Tested with drives fully populated.
Fan
1 x system fan
Sound Level
25 db(A)
System Warning
Buzzer
Kensington Security Slot
Max. Number of Concurrent Connections (CIFS)
1500
Note: Use only QNAP memory modules to maintain system performance and stability. For NAS devices with more than one memory slot, use QNAP modules with identical specifications. Warning: Using unsupported modules may degrade performance, cause errors, or prevent the operating system from starting.
* Sound Level Test Environment: Refer to ISO 7779; Maximum HDD loaded; Bystander Position; Average data from 1 meter in front of operating NAS. Designs and specifications are subject to change without notice.
Pricing Notes:
Pricing and product availability subject to change without notice.
QNAP Products
SMB Products
QNAP TBS-464 4-Drive NASbook. Intel 4-core Process, burst up to 2.9GHz, 8GB DDR RAM On-Board (Not Expandable), 4 x M.2 2280 NVMe SSD slots, 2.5GbE and 2 x HDMI
Intel Celeron N5105/N5095 quad-core, 4GB DDR4 RAM (not expandable), 4 x M.2 2280 NVMe SSD Slots, 2 x 2.5GbE, 2 x HDMI (upto 2.0), 2 x USB 3.2 Gen, 3 x USB 2.0, AES-NI encryption and Hardware transcoding
#TBS-464-8G-US
Our Price: $599.00