QNAP Features: Storage

Comprehensive RAID configurations fulfill data redundancy and flexible storage capacity expansion
Businesses need reliable and robust storage to store precious files such as reports, datasheets, graphs, documents, and so on. The overload of digital information has been driving the soaring demand for data storage.
QNAP Turbo NAS provides a powerful and trustworthy network attached storage solution with high capacity and fast data access, easy administration, and simple configurations. It particularly supports comprehensive RAID configurations and management to reduce the risk of data loss, and offers easy scalability for storage capacity expansion.
RAID Configuration:
Supports comprehensive RAID types
Advanced Global Hot Spare drive setup
RAID management made flexible
The Turbo NAS supports comprehensive RAID types thus provides IT administrators great flexibility to arrange a proper data protection level. Based on the number of hard drives of different Turbo NAS, IT administrators can choose from RAID 0, 1, 5, 6, 10, 5+hot spare, 6+hot spare, and 10+hot spare configurations. Considering the performance gain and extra redundancy, IT administrators can choose the most appropriate RAID configuration to effectively reduce the risk of data loss caused by unexpected hard disk failure.
The Global Hot Spare feature allows IT administrator to share spare drives with multiple RAID volumes on the Turbo NAS. When a hard drive fails in any RAID volume, the global hot-spare drive will automatically replace the failed drive to prevent data from being lost. Compared with a local spare drive, the Global Hot Spare function offers more efficient use of spare drives.

RAID Volume Expansion:
Online RAID capacity expansion
Flexible storage expansion
Uninterrupted system uptime
The Turbo NAS makes RAID volume expansion convenient and easy. At initial setup of the Turbo NAS, IT administrators can create RAID volumes by using small-sized hard drives. As business grows, the Turbo NAS storage capacity can be expanded by replacing existing hard drives with larger ones without the system being interrupted. All it takes is to replace the hard drives one by one and rebuild the RAID for each hard drive replacement, ensuring ongoing business operations.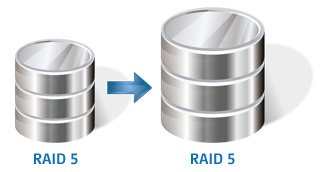 RAID Level Migration:
Flexible RAID level migration
Uninterrupted system uptime
Upgrade when data gets more important
The importance of stored data could change over time. At first, IT administrators can start using the Turbo NAS from single disk mode. When the stored data is getting more and more important, IT administrators can migrate the system from single drive mode to RAID 1, RAID 5, RAID 6, or even RAID 10 by adding additional hard drives. All the actions can be done online without turning off the Turbo NAS and with all the data retained.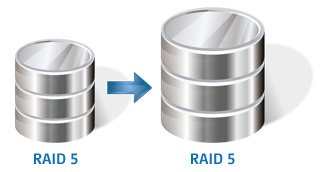 Advanced RAID Applications:
Enhanced read-only protection to rescue critical data
Exclusive RAID recovery technology
Enhanced read-only protection
A degraded RAID volume with bad blocks will normally cause a read/write error and the RAID volume might crash when it reaches the number of allowed failed hard disks. The Turbo NAS allows the volume with one or more hard disk failure to enter the read-only protection mode in case the bad block error happens on the second failed disk of RAID 5 or third failed disk of RAID 6, allowing the IT administrators to rescue critical data.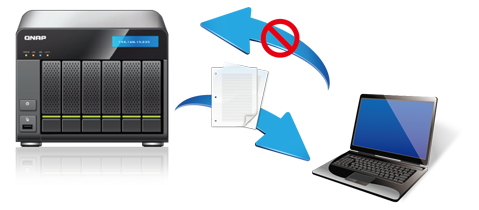 RAID recovery
With QNAP NAS exclusive RAID recovery technology, the RAID can be recovered to previous condition when more than the allowed disks are removed from a RAID volume. On the other hand, the RAID recovery technology is also helpful if the valid disk is removed by mistaken instead of the failed one, especially for businesses with high-end Turbo NAS with many hard drives. The system will recover to the degraded mode by just one-click after all the hard drives are inserted back to the system.