QNAP TS-451D2

Dual-core NAS with high-efficiency file management, data protection and HDMI output
Sorry, this product is no longer available, please contact us for a replacement.
Click here to jump to more pricing!
Package Content
QNAP TS-451D2 Storage
1 x Ethernet cables
1 x Power cords
16 x Flat head screw (for 3.5" HDD)
12 x Flat head screw (for 2.5" HDD)
AC Adapter
2 x Drive tray keys
Quick Installation Guide
Overview:
The 4-bay TS-451D2 provides high storage potential for home and small business users to store, share, and back up files. Business users can leverage its dual-core Intel processor to enable seamless multi-user on-premises/remote access to work files, while home users can enjoy a high-quality multimedia experience with both streaming and direct 4K HDMI 2.0 output. Cloud Storage Gateways allow you to leverage your existing cloud storage to deploy a hybrid-cloud solution, while a built-in App Center provides a wide range of applications to add additional functionality to the TS-451D2.
Available Models
TS-451D2-2G-
Intel® Celeron® J4025 dual-core 2.0 GHz processor (Burst up to 2.9 GHz), 2 GB DDR4 memory (1 x 2 GB)



TS-451D2-4G-
Intel® Celeron® J4025 dual-core 2.0 GHz processor (Burst up to 2.9 GHz), 4 GB DDR4 memory (1 x 4 GB)


Snapshots fully record the system status and data. If files are accidentally deleted or modified, you can quickly restore previously-recorded data.

HBS provides comprehensive backup and data recovery; QuDedup deduplicates data at the source to reduce storage usage, bandwidth usage, and backup time.

4K media playback and real-time transcoding; directly watch videos on a TV via HDMI output or streaming app.

Cloud storage gateways leverage cloud services to realize hybrid cloud structure and ensure low-latency access to clouds.

Host virtual machines and containers to run various applications on the TS-451D2.

A secure private cloud that supports account protection, IP blocking, 2-step verification, encryption, and more.
Features:
Dual-core 2.0 GHz (burst up to 2.9 GHz) with AES-NI encryption acceleration
The TS-451D2 is powered by an Intel® Celeron® J4025 dual-core 2.0 GHz processor (burst up to 2.9 GHz), supports up to 8 GB DDR4 memory, and is compatible with SATA 6 Gb/s drives. With Intel® AES-NI encryption, the TS-451D2 secures data without impacting performance. The TS-451D2 also features four USB 3.2 Gen1 ports (including one USB one-touch copy button) and two Gigabit Ethernet ports for greater connectivity to help streamline your workflows.
---
A secure backup center with snapshot protection

Windows® and Mac® backup
Use the license-free QNAP NetBak Replicator utility to back up and restore files from Windows® computers. Time Machine® is supported for backing up Mac® computers.

Snapshots for Volume & LUN
Snapshots are essential for NAS data protection, and their block-level feature makes it a dependable data protection method in the face of growing ransomware threats.
---
Multi-point file backup, access and sync
The TS-451D2 centrally stores data and files, and supports common file sharing protocols, including SMB/CIFS, AFP and NFS for Windows®, Mac®, and Linux®/UNIX® devices. Coupled with Qsync (a utility that transforms a QNAP NAS into a secure, high-capacity data center for file synchronization), any file uploaded to the TS-451D2 becomes available for all connected devices (such as computers, laptops, and mobile devices). Hybrid Backup Sync helps you easily backup or synchronize data on the TS-451D2 to another QNAP NAS, remote servers, or cloud storage for disaster recovery. Additionally, QuDedup technology greatly improves the efficiency of multi-version backup to the destination storage, while optimizing storage utilization. You can install the QuDedup Extract Tool on your computer and restore deduplicated files to their normal status. ---
Enjoy a high-quality multimedia experience
4K HDMI output
With HDMI 2.0 output, the TS-451D2 supports the direct playback of multimedia on TVs and monitors. Resolutions of up to 4K (4096 x 2160) at 60Hz are supported, and when coupled with a wireless keyboard and mouse the TS-451D2 is transformed into a convenient media player.
Build a Plex Media Server
Plex® Media Server can be quickly installed and set up on the TS-451D2, allowing you to stream media files to mobiles and media streaming devices (including DLNA®, Roku®, Amazon Fire TV® and Google Chromecast™).
Watch NAS videos on any devices
With Intel® UHD Graphics 600, the TS-451D2 supports high-quality video transcoding, enabling the NAS to convert videos to universal file formats that can be smoothly played on multiple devices.
Note: The TS-451D2's hardware provides hardware decoding, encoding, and transcoding capabilities. However, playback quality may vary due to factors including playback software, file formats, system usage, and available bandwidth.
---
Seamless integration with cloud data
The TS-451D2 can be easily integrated with mainstream cloud services. By deploying cloud storage gateways and enabling local caching on the TS-451D2, you can seamlessly use the cloud for storage, backup, and data recovery with low-latency access, providing an innovative hybrid cloud experience.

HybridMount File-Based Cloud Gateway
Flexibly expand your storage capacity by connecting to cloud storage. You can leverage QTS apps to manage and edit your cloud files or multimedia files. HybridMount is ideal for file server online collaboration and file-level data analysis.

VJBOD Cloud block-based cloud gateway
VJBOD Cloud supports streamlined NAS backup to object cloud storage. The block-based data transmission uploads random data and large files to the cloud in blocks, and only transmits block-based volume or LUN changes (such as addition, modification, or deletion). This is ideal for enterprise-level applications with large file transfer requirements, such as databases, VM volumes, and videos.
---
Directly host virtual machines and containers
Virtualization Station and Container Station provide comprehensive virtualization support, and the Network & Virtual Switch allows you to allocate physical network resources to virtual machines, containers, and the NAS to simplify network deployment.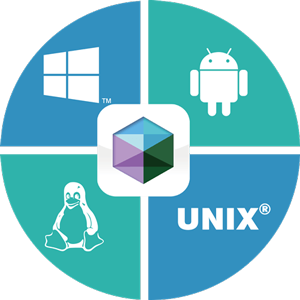 Virtualization Station
Run Windows®, Linux®, UNIX®, and Android™ virtual machines and access them via a web browser or Virtual Network Computing (VNC).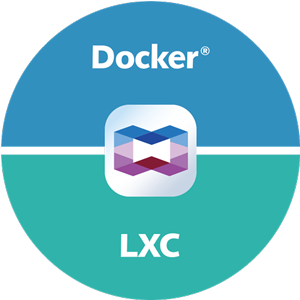 Container Station
Experience LXC and Docker® lightweight virtualization technologies, download apps from the built-in Docker Hub Registry®, import and export containers, and create abundant microservices.
---
Easy and secure remote connection with myQNAPcloud
myQNAPcloud allows you to remain connected to your TS-451D2 using a unique domain name. No complex routing or configuration is required, and myQNAPcloud strengthens SSL Certificate keys to 2048-bits to enable secure remote access, management, and sharing files and services on your TS-451D2.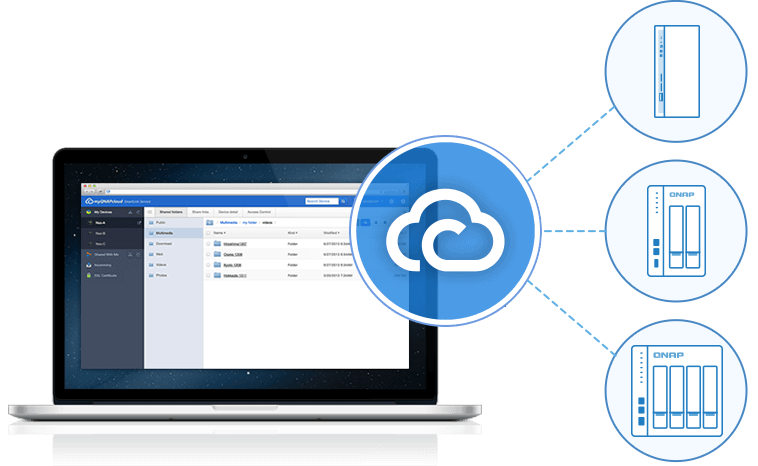 ---
Safeguard your environment with QVR Pro
QVR Pro is a modern NAS-based surveillance solution that simplifies camera management, storage space allocation, camera live view, and playback. Dedicated storage space for surveillance data can be configured on the TS-451D2 to optimize system performance, and surveillance feeds can be monitored at any time using the QVR Pro Client mobile app. Budget-constrained users can even use USB webcams as network cameras by using QVR Pro with the QUSBCam2 app.
Notes:
QVR Pro requires a QNAP NAS with at least 4GB RAM. QNAP NAS that do not meet this requirement should use Surveillance Station.
The maximum number of channels supported varies by NAS model, network configuration, and camera settings.
---
More productivity applications

QuMagie
An AI-powered photo sharing and management app that supports automatic photo categorization with AI Albums, iOS® Live Photo display, and powerful search tools.

Notification Center
Consolidates all QTS system events, alerts, and notifications for smooth and easy NAS management, keeping you always informed of your NAS status.

Security Counselor
Check your NAS for weaknesses and receive recommendations for improving security. It also integrates anti-virus and anti-malware scanners.

Qmiix
An Integration Platform as a Service (iPaaS) solution that enables you to automate daily tasks by connecting apps and devices to your NAS.

Qsirch
QNAP's powerful, Google-like search tool helps you quickly find images, music, videos, documents, and emails using keywords, color, faces, and other search conditions.

Cinema28
Transform your NAS into a media streaming server for enjoying your photos, music and videos throughout your home.
---
Flexible and economical storage expansion
QNAP provides several ways to expand the storage capacity of your TS-451D2 to accommodate data and business growth.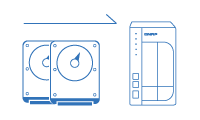 Upgrade RAID Capacity
Hot-swap lower-capacity drives with larger-capacity drives to expand your NAS capacity so it can grow with your business.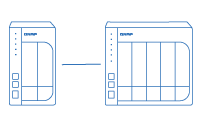 Attach Expansion Enclosures
Connect two TR-004 RAID expansion enclosures, or an 8-bay TL-D800C USB 3.2 Gen 2 JBOD and use the Storage & Snapshots Manager to handle NAS capacity expansion.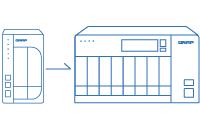 Migrate to a New NAS
Install your NAS hard drives into a larger QNAP NAS and retain all your existing data and configurations.
---
Extend your hardware warranty up to 5 years
The TS-451D2 comes with a 2-year warranty as standard, with the option to purchase a warranty extension for up to 5 years coverage.
Hardware Specifications:
TS-451D2-4G
TS-451D2-2G
CPU
Intel® Celeron® J4025 dual-core 2.0 GHz processor (burst up to 2.9 GHz)
CPU Architecture
64-bit x86
Graphic Processors
Intel® HD Graphics 600
Intel® HD Graphics 600
Floating Point Unit
Encryption Engine
(AES-NI)
(AES-NI)
Hardware-accelerated Transcoding
System Memory
4 GB SO-DIMM DDR4 (1 x 4 GB)
2 GB SO-DIMM DDR4 (1 x 2 GB)
Maximum Memory
8 GB (2 x 4GB)
Memory Slot
2 x SO-DIMM DDR4
For dual-DIMM configuration, you must use a pair of identical DDR4 modules.
Flash Memory
4GB (Dual boot OS protection)
Drive Bay
4 x 3.5-inch SATA 6Gb/s, 3Gb/s
The system is shipped without HDD
Drive Compatibility
3.5-inch SATA hard disk drives
2.5-inch SATA hard disk drives
2.5-inch SATA solid state drives
Hot-swappable
SSD Cache Acceleration Support
Gigabit Ethernet Port (RJ45)
2
Jumbo Frame
USB 3.2 Gen 1 port
4
HDMI Output
1, HDMI 2.0 (up to 4096 x 2160 @ 60Hz)
Form Factor
Tower
LED Indicators
Power/Status, LAN, USB, HDD1-4
Buttons
Power, USB copy, Reset
Dimensions (HxWxD)
6.51 × 6.3 × 8.64 inch
Weight (Net)
4.61 lbs
Weight (Gross)
6.66 lbs
Operating temperature
0 - 40 °C (32°F - 104°F)
Relative Humidity
5-95% RH non-condensing, wet bulb: 27˚C (80.6˚F)
Power Supply Unit
External Power Adapter, 90W, AC 100-240 V
Fan
1 x 120mm, 12VDC
Sound Level
18.5 db(A)
System Warning
Buzzer
Kensington Security Slot
Max. Number of Concurrent Connections (CIFS)
800
Note: Use only QNAP memory modules to maintain system performance and stability. For NAS devices with more than one memory slot, use QNAP modules with identical specifications. Warning: Using unsupported modules may degrade performance, cause errors, or prevent the operating system from starting.
* Sound Level Test Environment: Refer to ISO 7779; Maximum HDD loaded; Bystander Position; Average data from 1 meter in front of operating NAS. Designs and specifications are subject to change without notice.
Documentation:
Datasheet for QNAP TS-451D2 is coming soon.
Pricing Notes:
Pricing and product availability subject to change without notice.
QNAP Products
RAM
4GB DDR4-2666, SO-DIMM, 260 pin, A0 version
TS-451DeU, TS-h973AX
#RAM-4GDR4A0-SO-2666
Our Price: $110.00