QNAP QMiroPlus-201W

Next-Generation Tri-Band Wi-Fi Mesh AC2200 2.5GbE NAS and SD-WAN Router
QNAP Products
Networking Products
QNAP QMiro-201W: WiFi Mesh Tri-band home SD-WAN router & QNAP Tower NAS 2 bay Intel Gemini Lake J4125 4C, 2 x SATA 3Gb/s 2.5″, 4GB DDR4 RAM
Tri-band Wi-Fi 5 of 2.4GHz, 5GHz, dedicated Mesh Wi-Fi 5GHz between Mesh Wi-Fi routers, enterprise-grade SD-WAN VPN solution for multi-site VPN deployment via the QuWAN Orchestrator &Intel Gemini Lake J4125 4cores 2.0Ghz, 4GB DDR4 RAM, 4 x GbE, 2 x USB 3.2 Gen 1
#QMiroplus-201W-US
Our Price: $579.00
Click here to jump to more pricing!
Package Content
QNAP QMiroPlus-201W
1 x Ethernet cable
Power cord
Power supply
Quick Installation Guide
Overview:
To embrace the new normal of remote working, businesses must deploy not only a remote VPN that is quickly accessible by multi-location users, but also a high-speed in-premises wireless network and a smarter file storage solution. The QMiroPlus-201W with QNAP Home Cloud 2.0 Solution combines a Mesh Wi-Fi AC2200 router and 2.5GbE NAS to decomplicate your network settings. With two 2.5-inch SATA drive bays and SD-WAN technology, QMiroPlus-201W integrates multi-cloud environments allowing you to centrally manage and access locally-stored and cloud-based files and data, building next-generation networks for homes and remote working.

Supports Mesh Wi-Fi Handover, allowing wide-coverage connectivity. Tri-Band Wi-Fi guarantees smooth and stable Wi-Fi connections via 2.4GHz, 5GHz and dedicated Mesh 5GHz frequencies.

Supports QTS/QuRouter dual-system with home cloud 2.0 solution for easier NAS applications and routing configuration.

Easily and securely connect to your company networks and multi-site VPN using the built-in QNAP SD-WAN solution, QuWAN.

Use the QMiroPlus-201W as a home storage and entertainment center with various apps for file management, backup, and multimedia.

HybridMount integrates mainstream cloud services and local caching, allowing you to access cloud-based files as if they were stored locally.

One 2.5GbE host management port and four Gigabit ports for flexible LAN and WAN deployment.
Easy 6-Step Installation with the QuRouter App
Network settings are greatly simplified with the QuRouter App. With Bluetooth and a Settings Wizard you are only six steps away from setting up your smart home network and cloud storage applications.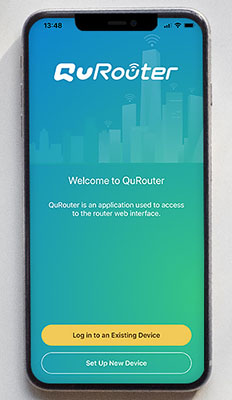 1. Install your device
Open the QuRouter App to check device model name, connect to power and the internet.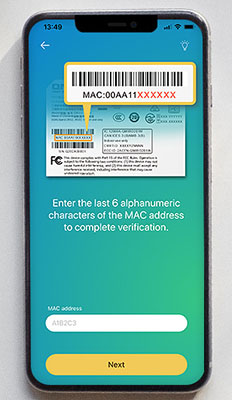 2. Verify your device
Enter the last 6 characters of the MAC address from the sticker on the device to complete verification.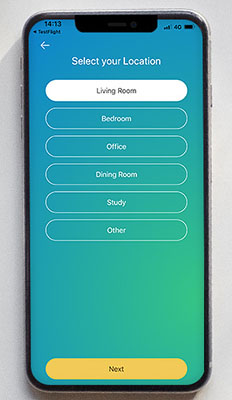 3. Select your device location
Select the device location at a specified area of your home.
4. Set up wireless network
Change the Wi-Fi SSID and password to connect to the wireless network.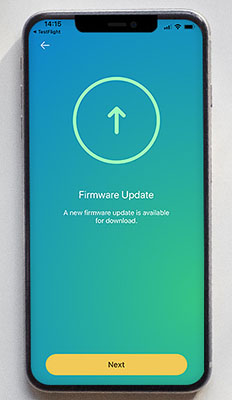 5. Firmware update notification
Users will be notified with the new firmware version for quick updates.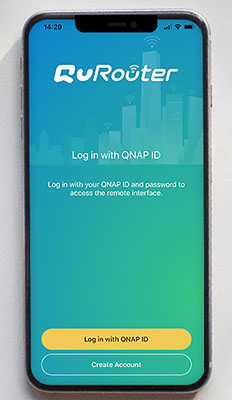 6. Log in with your QNAP ID
Log in with your QNAP ID to register the device.
Features:
Connect your Home with High-Coverage Tri-Band Mesh Wi-Fi
Say goodbye to weak Wi-Fi signals by setting up a Mesh Wi-Fi structure in your home. QMiroPlus-201W adopts Wi-Fi Handover technology, allowing multiple users to be automatically connected to the router with the strongest Wi-Fi signal with a single SSID.
---
Dedicated Tri-Band Mesh Wi-Fi for Smooth Connections
The QMiroPlus-201W supports Tri-band Wi-Fi of 2.4GHz, 5GHz and a dedicated Mesh Wi-Fi 5GHz band for high-bandwidth connections between Mesh Wi-Fi routers. Unlike conventional dual-band routers whose 5GHz band must be shared between Wi-Fi clients and Mesh Wi-Fi routers, the QMiroPlus-201W guarantees smooth and stable Wi-Fi connections.

---
File Storage and Backup - Easily to Use for All Ages
QMiroPlus-201W provides convenient internet storage space for everyone in your family. Simply follow the beginner's guide to create family accounts, and then invite them to enjoy centralized data storage and real-time backup services.
---
Convenient connectivity for remote workers
Working from home has transformed the lives and daily practices of workers and businesses alike, but now the challenge is ensuring that we are always securely connected to business IT. QNAP QuWAN is a SD-WAN solution that enables automatic Mesh VPN topology from corporate networks to personal home routers. Once your home QMiroPlus-201W is set up, QuWAN Cloud Orchestrator enables QMiroPlus-201W to connect to the mesh VPN whether in router mode or AP mode. After that, your QMiroPlus-201W is your gateway to the company cloud. You can even mount storage from your company's NAS to your QMiroPlus-201W for quick and convenient access to important files and data.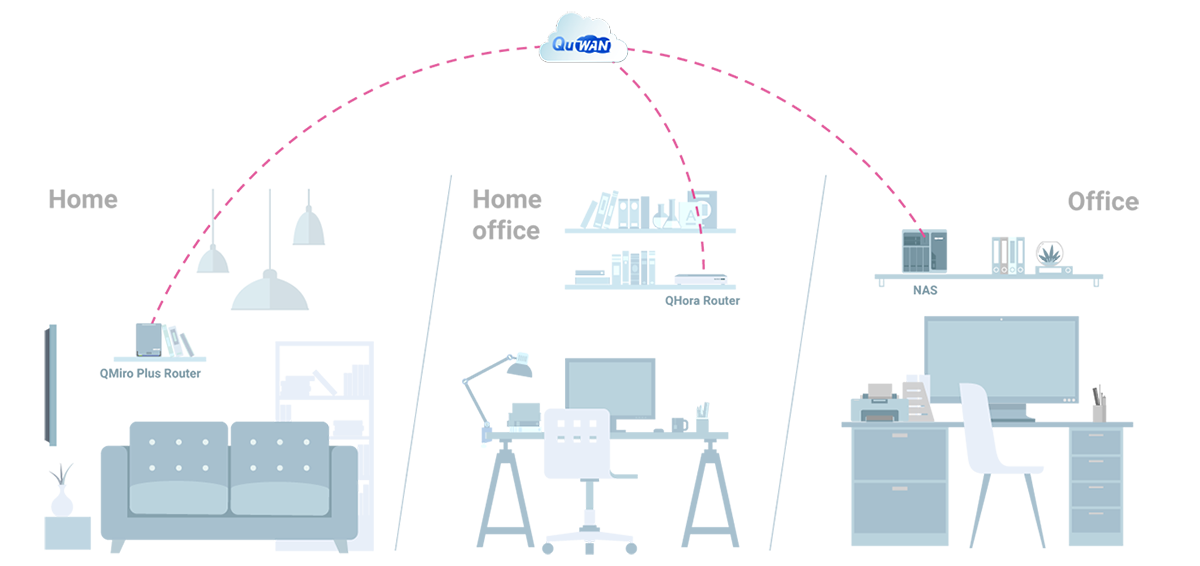 ---
Sync and back up your data anytime, anywhere
With Qsync and Hybrid Backup Sync (HBS) you can easily sync and back up your data from anywhere at any time. Qsync enables you to sync data between a QMiroPlus-201W and other end devices, while HBS helps back up data from the QMiroPlus-201W to a QNAP NAS or public cloud storage. Both apps work seamlessly with the QMiroPlus-201W to create a secure cross-device and multi-version backup solution.
---
Centralize your Cloud Storage
With the File Station app you can centrally manage various cloud storage accounts (including Google Drive and Dropbox), allowing quick and easy access to your files wherever they are stored. QMiroPlus-201W also supports HybridMount cloud storage, allowing you to mount storage accounts from mainstream cloud providers.
---
Safe storage for your photos
By combining QNAP's QuMagie mobile app with the QuMagie Smart Album on QMiroPlus-201W, you can automatically back up photos from mobile devices as soon as they are taken. QuMagie also uses AI deep learning algorithms to help organize your photo collections, including using facial, object, and location recognition.
---
Create a family-friendly internet environment
Parental controls are included for you to block inappropriate sites and filter keywords on search engines to ensure that everyone in your family can use the internet safely.
---
Protect yourself from breaches and intrusion
QNAP follows the Zero Trust ("never trust, always verify") security model, helping to protect you from malware and intrusion. Connections, devices, and IP addresses can also be blocked using the NAT.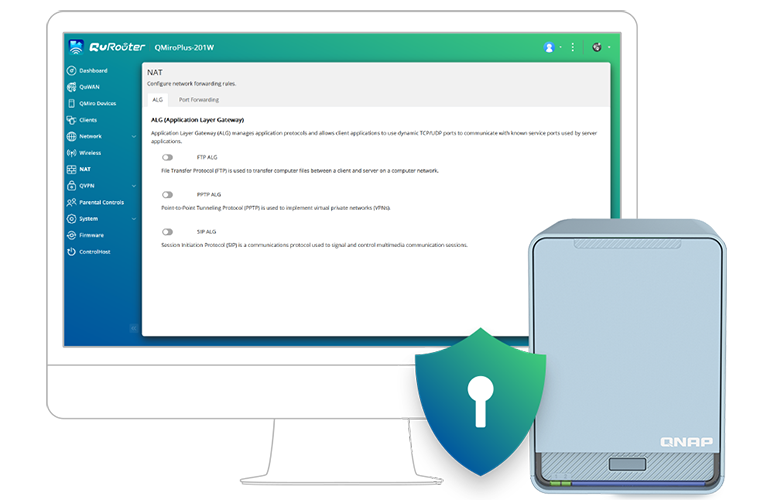 ---
QuRouter OS: User-Friendly Router Management
With a web-based GUI and at-a-glance dashboard, the QuRouter OS provides a user-friendly interface for everyday network management. The QMiroPlus-201W also supports wireless router or AP mode configuration via the QuRouter OS, allowing dispatching an IP address as a master router or receiving an IP address from another main router. With the QuRouter OS, not only can users efficiently manage all connected wired and wireless devices in real-time, but they can also configure NAT, VPN, security and QuWAN advanced functions.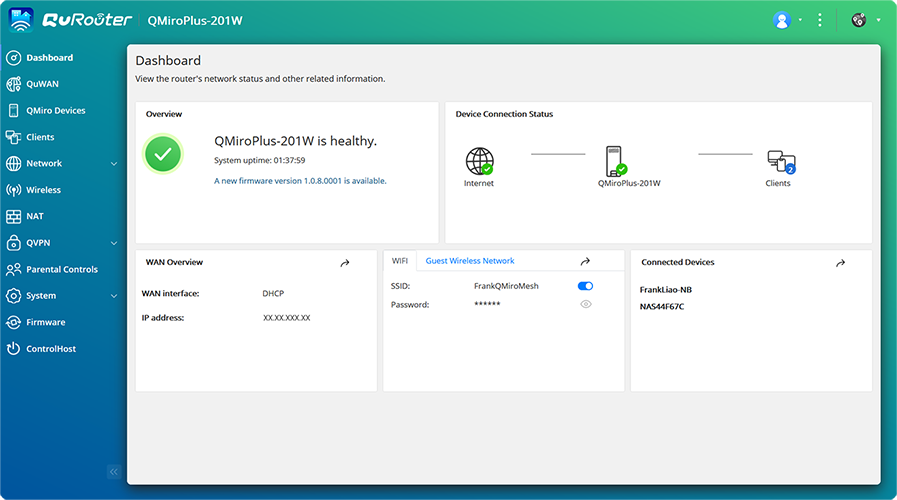 ---
Stylish Morandi blue and fanless design for homes
Combining style and functionality to fit modern digital homes, the QMiroPlus-201W's design includes Morandi colors and near-silent cooling design.
---
Includes Apps for Work and Play

Your file cabinet on cloud
Manage and share your files with a familiar and user-friendly web interface. Qfile mobile App is also supported for you to remotely access NAS files.

Your movie theater at home
Stream videos to mobile devices, DLNA® devices, smart TVs, Apple TV® (via Qmedia), Chromecast, or Amazon Fire TV®.

Your home surveillance solution
QNAP's subscription-based smart surveillance solution, QVR Elite, allows you to easily build a surveillance system with lower TCO and higher scalability. You can also use USB webcams as surveillance cameras and store the videos directly on your NAS.

Categorize and share your videos
Centrally manage, categorize, and share your video collection with friends and family.
---
Control your Wi-Fi with a convenient mobile app
The QuRouter mobile app allows you to monitor your home mesh network, including connection status, network usage, and the number of connected users.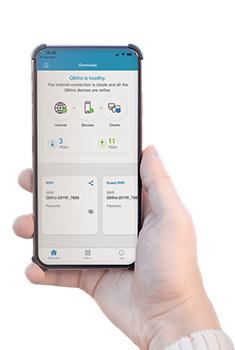 ---
Set up your smart home Wi-Fi
Build a flexible home cloud environment and enjoy a seamless wireless experience with the QMiro Plus smart router and QMiro Mesh Wi-Fi router!
| One QMiroPlus-201W router | One QMiroPlus-201W router + One or multiple QMiro routers |
| --- | --- |
| Up to 2100 square feet / 195 square meters | 2100 square feet / 195 square meters with every new connection |
| For apartments with one to two rooms/small stores with smart cloud storage needs | For large apartments with three to five rooms/large stores/house with smart cloud storage needs |
Note 1: Limited to four QMiro Plus smart routers and QMiro Mesh Wi-Fi routers (1 Router + 3 Satellites) in one site.
Note 2: Coverage may vary depending on the number and placement of units.
Hardware Specifications:
QMiroPlus-201W
Number of Ethernet Ports
5
2.5GbE Host Port(RJ45)
1
1GbE (RJ45)
4
CPU
Router: Qualcomm IPQ4019, Quad 4cores ARM Cortex A7@716.8MHz
NAS: Intel Gemini Lake J4125 4cores @2.0Ghz
Memory
Router: 512MB DDR3
NAS: 4GB DDR4
Flash
Router: 4MB SPI NOR Flash+4GB eMMC
NAS:4GB eMMC
Wireless Antenna
4 Internal Antennas
Wireless Standard
802.11a/b/g/n/ac
Wireless Speed Rating
AC2200
Wireless Speed 2.4 GHz
2.4G (400Mbps): 2x2 Dual Band(20/40MHz)
Wireless Speed 5 GHz
5G (867+867Mbps): 2x2 Dual Band(20/40/80MHz), 2x2 Single Band (20/40/80MHz)
Frequency Band 2.4 GHz
Frequency Band 5 GHZ
Wireless Bandwidth
20/40/80MHz
Transmit Output Power
Depends on country code
Wireless Antenna Type
2 Internal dual band(2.4G/5G) antennas
2 Internal single band(5G) antennas
Antenna Gain 2.4 GHz
2.5dBi, 2.6dBi
Antenna Gain 5 GHz
4.6dBi, 4.4dBi
Wi-Fi 5 (802.11ac)
USB 3.2 Gen 1 port
2
Bluetooth
Version 5
Bluetooth Antenna Gain
3.42dBi
Button
Power(for NAS), Reset, WPS
Power
12V DC
Power consumption
60W
Dimensions
183.5x105x143.5
Weight
1.44Kg
Packing weight
2.15Kg
Operating Temperature
0°C ~ +40°C
Operating Humidity
5% to 95% non-condensing
Certifications
JATE / CE / FCC / BSMI / NCC / IC / SRRC / CCC / VCCI / RCM / OFCA
Wi-Fi Mesh
(with Tri-Band)
QNAP SD-WAN solution, QuWAN
Drive Bay
2 x 2.5-inch SATA 3Gb/s(Compatible with 6Gb/s SSD/HDD)
Drive Compatibility
2.5-inch bays:
2.5-inch SATA solid state drives
2.5-inch SATA hard disk drives
Note: Use only QNAP memory modules to maintain system performance and stability. For NAS devices with more than one memory slot, use QNAP modules with identical specifications.
Warning: Using unsupported modules may degrade performance, cause errors, or prevent the operating system from starting.
* Sound Level Test Environment: Refer to ISO 7779; Maximum HDD loaded; Bystander Position; Average data from 1 meter in front of operating NAS. Product images are for illustrative purposes only and may differ from the actual product. Due to differences in monitors, colors of products may also appear different to those shown on the site. Designs and specifications are subject to change without notice.
Pricing Notes:
Pricing and product availability subject to change without notice.
QNAP Products
Networking Products
QNAP QMiro-201W: WiFi Mesh Tri-band home SD-WAN router & QNAP Tower NAS 2 bay Intel Gemini Lake J4125 4C, 2 x SATA 3Gb/s 2.5″, 4GB DDR4 RAM
Tri-band Wi-Fi 5 of 2.4GHz, 5GHz, dedicated Mesh Wi-Fi 5GHz between Mesh Wi-Fi routers, enterprise-grade SD-WAN VPN solution for multi-site VPN deployment via the QuWAN Orchestrator &Intel Gemini Lake J4125 4cores 2.0Ghz, 4GB DDR4 RAM, 4 x GbE, 2 x USB 3.2 Gen 1
#QMiroplus-201W-US
Our Price: $579.00