QNAP QHora-301W Sale Promo

Next-Generation Wi-Fi 6 Dual-port 10GbE SD-WAN Router on Discount

This promotion is no longer available, please contact us for the current promotions.
QNAP, named from Quality Network Appliance Provider, is devoted to providing comprehensive solutions from software development, hardware design to in-house manufacturing.
Promotion Details
Buy QNAP QHora-301W-US and get $30 off per unit, for a limited time.
To embrace the new normal of remote working, businesses must deploy both a remote VPN that is quickly accessible by multi-location users, and a high-speed in-premises solution covering wired and wireless connections. The QHora-301W supports high-speed Wi-Fi 6 and 10GbE connections, while also providing an enterprise-grade SD-WAN VPN to allow multi-site VPN deployment via the cloud. Combined with a budget-friendly price, the QHora-301W is a solid foundation for building a next-generation network.
Welcome to a New Age of Routers!
QNAP's next-generation routers go beyond simple IP settings and Wi-Fi connectivity, with the QHora-301W offering an all-in-one solution by integrating amazing new technologies for remote multi-site VPN, and high-speed wired and wireless connectivity.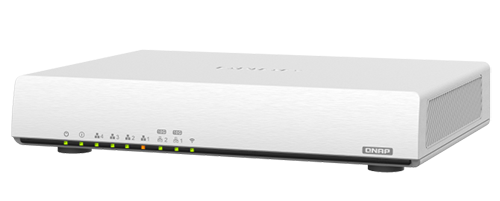 Pricing Notes:
Pricing and product availability subject to change without notice.
QNAP Products
QNAP Routers Sale
QNAP QHora 301W: Dual 10G wifi 6 AX3600 Fanless SD-WAN router
#QHora-301W-US
Our Price: $329.00
Contact us for more information!