Qnap Free 10 GbE Network Expansion Card Promo

Get a LAN-10G2SF-MLX with any TS-x73AU series

QNAP, named from Quality Network Appliance Provider, is devoted to providing comprehensive solutions from software development, hardware design to in-house manufacturing.
| | | |
| --- | --- | --- |
| When you buy any TS-x73AU series SMB Storage. | | Get a free LAN-10G2SF-MLX network expansion card |
High-performance Rackmount 2.5GbE NAS Powered by AMD Ryzen™, supporting 10GbE network expandability
AMD Ryzen™ V1000 series V1500B 4 cores/8 threads 2.2GHz processor
Two 2.5GbE ports with up to 5Gbps under Port Trunking
PCIe expansion to add 10GbE, QM2 M.2 NVMe/SATA SSD card, Fibre Channel, wireless networking, or a graphics card
Featured Products
QNAP LAN-10G2SF-MLX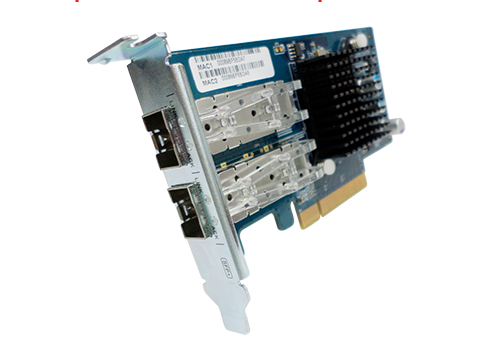 The 10 GbE network expansion card uses a Mellanox® ConnectX® SmartNIC controller to accelerate backup/restore tasks for an ever-growing amount of data and intensive data transfer. iSER is also supported to optimize VMware® virtualization performance.
Dual-port 10 GbE network expansion card
Controller: Mellanox ConnectX-3 Pro EN
Connector: SFP+
PCIe interface: PCIe Gen3 x8
Transmission rates: 10Gbps
Supported operating systems: QTS/QuTS hero (recommend an upgrade to the latest version)
Supported QNAP NAS: Models with PCIe slot(s) (1 free slot required)
Bracket: Low-profile bracket pre-installed; full-height and specialized (for selected QNAP NAS) brackets are bundled
Port and cable: SFP+ DAC cable (1.5M, 3M, 5M) or SFP+ OPTIC transceiver
Pricing Notes:
Pricing and product availability subject to change without notice.
Qnap Products
Free Dual-port 10 GbE network expansion card Promo
QNAP 3U 16-Bay NAS/iSCSI IP-SAN. AMD Ryzen V1500B Quad-core 2.2GHz, 16GB RAM, 2x2.5GbE LAN, Redundant PSU, Optional 10GbE & M.2 NVMe via PCIe expansion
AMD Ryzen V1000 series V1500B 4C/8T 2.2GHz, 16GB DDR4 RAM (2 x UDIMM slots, max. 32GB), 2 x 2.5GbE LAN, optional 10GbE & M.2 NVMe/SATA SSD expansion via a PCIe, 2 x PCIe 3.0 x 4 slots, USB 3.2 Gen2 Type-C & Type-A, 2 x 550W PSU
Promo: Free LAN-10G2SF-MLX network expansion card
#TS-1673AU-RP-16G-US
Our Price: $2,859.00
QNAP 2U 12-Bay NAS/iSCSI IP-SAN. AMD Ryzen V1500B Quad-core 2.2GHz, 8GB RAM, 2x2.5GbE LAN, Redundant PSU, Optional 10GbE & M.2 NVMe via PCIe expansion
AMD Ryzen V1000 series V1500B 4C/8T 2.2GHz, 8GB DDR4 RAM (2 x UDIMM slots, max. 32GB), 2 x 2.5GbE LAN, optional 10GbE & M.2 NVMe/SATA SSD expansion via PCIe, 2 x PCIe 3.0 x 4 slots, USB 3.2 Gen2 Type-C & Type-A, 2 x 550W PSU
Promo: Free LAN-10G2SF-MLX network expansion card
#TS-1273AU-RP-8G-US
Our Price: $2,309.00
QNAP 2U 8-Bay NAS/iSCSI IP-SAN. AMD Ryzen V1500B Quad-core 2.2GHz, 4GB RAM, 2x2.5GbE LAN, Redundant PSU, Optional 10GbE & M.2 NVMe via PCIe expansion
AMD Ryzen V1000 series V1500B 4C/8T 2.2GHz, 4GB DDR4 RAM (2 x UDIMM slots, max. 32GB), 2 x 2.5GbE LAN, optional 10GbE & M.2 NVMe/SATA SSD expansion via PCIe, 1 x PCIe 3.0 x 8 slot, USB 3.2 Gen2 Type-C & Type-A, 2 x 300W PSU
Promo: Free LAN-10G2SF-MLX network expansion card
#TS-873AU-RP-4G-US
Our Price: $2,039.00
QNAP 2U 8-Bay NAS/iSCSI IP-SAN. AMD Ryzen V1500B Quad-core 2.2GHz, 4GB RAM, 2x2.5GbE LAN, Single PSU, Optional 10GbE & M.2 NVMe via PCIe expansion
AMD Ryzen V1000 series V1500B 4C/8T 2.2GHz, 4GB DDR4 RAM (2 x UDIMM slots, max. 32GB), 2 x 2.5GbE LAN, optional 10GbE & M.2 NVMe/SATA SSD expansion via PCIe, 1 x PCIe 3.0 x 8 slot, USB 3.2 Gen2 Type-C & Type-A, 250W PSU
Promo: Free LAN-10G2SF-MLX network expansion card
#TS-873AU-4G-US
Our Price: $1,759.00